30 January 2001, Amritapuri
At 8:30 a.m., Amma returned to Amritapuri in a little boat over the backwaters. She came from Kodungallur where the last programme of her three-week tour of southern India had finished at 4:00 a.m. When she arrived the first thing she did was to visit Ram, the baby elephant. She went into his stable and gave him a bath. As Amma hosed him with water, he raised his trunk in delight and came close to her several times, fondling the curve of her face with the end of his trunk, like a baby kissing its Mother. Amma received her son's affections joyously and continued to bathe him.
He sat down, clearly enjoying his ducking beneath the spray from his Mother and rolled over to let his attendants scrub his body and clean the lips of his mouth. Just like a baby's bath-time, parents and children were having a lovely time, and nobody wanted to leave. Finally Amma stopped the hose and, calling his name, said her goodbyes.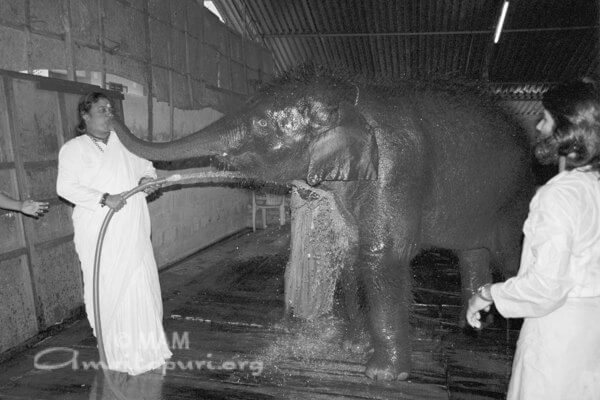 As she walked to her quarters somebody handed her a tiny homeless baby bird. She cupped it in her hands and kissed it. Devotees pressed her on every side, and Amma kept the bird carefully in her hand as she walked, letting her divine glances fall on the faces of everyone. She walked up the steps to her room, the bird still clasped gently to her bosom, and, kissing it once more, she waved affectionately to her children below the stairs and went inside.