25 January 2001, Trissur
All the splendour India is capable of was in evidence during Amma's recent one-night programme in Trissur on 25th January, 2001. It was Her first visit to this town in three years, and the enthusiasm of the devotees was overwhelming. The whole city seemed decked out to welcome Amma. There were banners, stickers, and long strands of banana leaf streamers hung across and along the streets.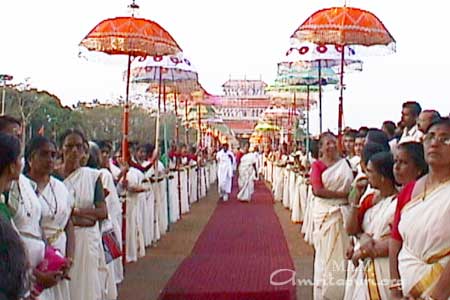 A gigantic cut-out of Amma towered over the open field that had been turned into the programme site, and strings of flashing lights lined the walkways and boundaries. A hundred-meter aisle led to a pandal – designed to resemble the dignified stone temples – which was bounded by statuettes of meditating Buddhas. Women stood on both sides of the aisle holding trays of grains, oil lamps and flower petals. High above them fluttered ceremonial parasols in brilliant colours.
Standing at the foot of the aisle in welcome were three elephants, regal in golden head dress, their mahouts seated on top of them. A large photo of Mother's compassionately smiling face graced the head of the elephant in the centre. The smallest of the elephants was adorable, and was even smaller than Ram, the elephant staying in Amritapuri.
Yet another spectacle was the dancers. On their shoulders, they carried towering structures resembling the traditional trapezoidal temples of South India, balancing them with grace while spinning and moving up and down.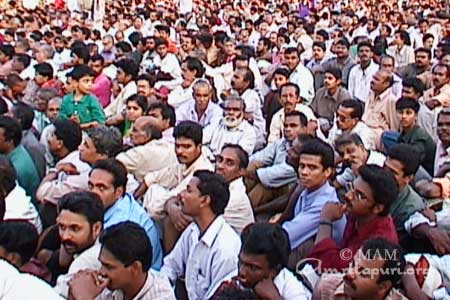 At about 6:15 in the evening, Mother arrived. A conch sounded, and temple musicians welcomed her enthusiastically. Smiling at the exuberant devotees who had rushed to the aisle to catch a glimpse of Her, Amma mounted the stage, prostrated to the devotees, and began the programme of satsang, bhajan, meditation and darshan.
There was a crowd of over fifty thousand, prompting the local Member of the Legislative Assembly, Mr. T. Ramakrishnan, to remark that the programme was like a mini Kumbha Mela.
By the time Amma had finished giving darshan, it was past seven the next morning. As She walked down the aisle towards Her car, she looked around at Her children, checking to see if everyone had received darshan. So ended this year's Trissur programme – too short for the devotees, but eventful nonetheless.