10 January 2001

Leaving Amritapuri
When Mother left Amritapuri for her three-week South India tour, Ram, the baby elephant, was given a special darshan. As her car drew near him, Ram immediately stuck his trunk right inside the open window and deftly took a few bananas from Mother's hand. Mother said playfully, "Ram, po!" [Ram, go!] and he immediately withdrew, turned around and walked away!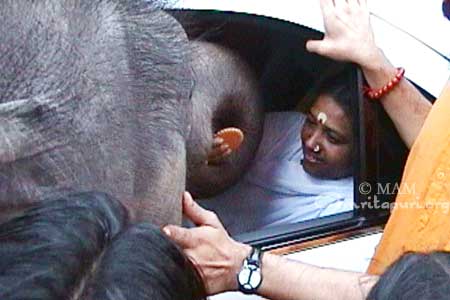 The car then slowly passed by lines of residents, construction workers, Computer Institute students and neighbours from the adjoining fishing villages who gathered to see Mother one more time.
Arrival at the Trivandrum Ashram

The road leading to the Ashram was lined with devotees standing outside their homes by beautiful altars. Mother would stretch her hands through the car window to stroke a cheek, grasp a hand, caress a bowed head. Some devotees would thrust a gift into her hands, and others would garland her.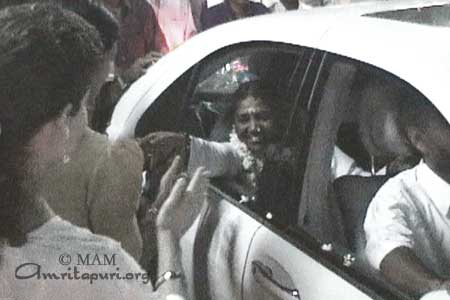 As Amma reached the Ashram, the devotees thronged about her, calling, "Amma! Amma!" and pushed closer and closer for a touch. Mother paused on the way to her room and gazed at her children from the balcony, love pouring from her eyes. A sea of arms stretched upwards, doing everything possible to touch her.
For a long time Mother stood there, sometimes locking her eyes with someone else's; at other times calling out to an individual, "Are you taking care of your health, son?" or "Did you pass your exams, daughter?"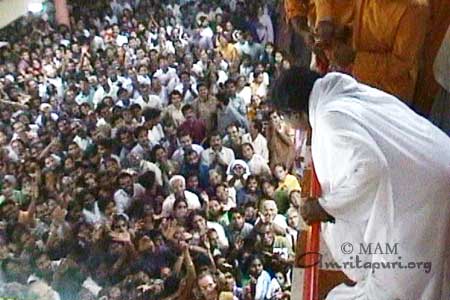 She showered her children with the flower petals from the many garlands she was offered. When there were no more petals, someone threw a new garland from the floor below, and she caught it! More petals, more blessings.