Sthala Puranas of Bharat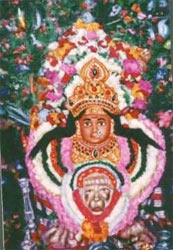 In the mid-1990s, many state governments officially re-Indianized their citie's names. In 1995, the capital of Maharashtra officially switched from Bombay to Mumbai, thereby re-invoking a goddess considered by the Koli1 to be the area's protectress. (The name "Mumbai" comes from a mix of mumba and ai, both of which mean "mother" in Marathi.)
Initially, Mumbai was not part of mainland India as it is today, but a string of several islands, which the British began connecting in 1782 and completed in the early 1900s. It is believed that one of the settlements in this string of islands was known as Mumba Devi.
A Mumba Devi Temple where people come to worship the patron goddess stands today in the Kalba Devi area of Mumbai. The original temple was at the Phansi Talao (Gibbet Tank) on the city's Esplanade, within the current limits of Chhatrapati Shivaji Terminus. Although the original temple managed to escape demolition during Muslim and Portuguese rule, it was demolished by the British in order to provide additional space for fortifications in the mid-1700s. The temple was rebuilt in it current location in 1830. The general belief is that the original temple was constructed in the late 14th century.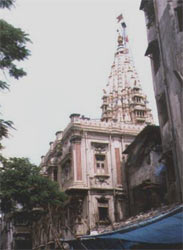 The legend of Mumba Devi was recorded from the Sanskrit sthala-purana by scholar and city historian K. Raghunath in a book called Hindu Temples of Bombay, published in 1900. In that book, he writes:
"It is stated therein that in times of yore, there lived in this island a very powerful and mighty giant bearing the name of Mumbarak, and the island had derived its name from him.
'By means of austerities he pleased Brahmadev and prayed to him to be favoured with a blessing that he would be incapable of meeting with death at anybody's hands, and that he would ever prove successful.
'Having once secured the blessing, he set out to harass both people and the Gods on earth. All the Gods therefore proceeded en masse to Vishnu to seek his protection and prayed to him to destroy their foe.
"Upon this, Vishnu and Shiv extracted a portion of lustre, each from his own body, and made of it a goddess or Devi for the destruction of the giant. The goddess then beat Mumbarak almost to death and threw him down on the ground and told him to ask for a blessing. He entreated her to join his own name with hers and to perpetuate that name on earth.
"The goddess accordingly granted his prayer and named herself Mumbadevi."
—Narada
*********
1 The Koli are a community of fisher-folk who live in coastal Maharashtra. The Marathi word "koli" means "spider" or "one who weaves a web or net."