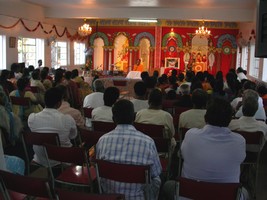 From January 22nd to February 2nd Br. Shubamrita Chaitanya visited the island of Mauritus to give talks, conduct pujas and hold a meditation course.
He was welcomed by a large number of devotees from the various communities of the island: Tamil, Marathi, Telugu, and of religions- Hindu, Muslim, Creole and Chinese.
Br. Shubamrita also paid a visit to His Exc. Sir Anerood Jugnauth at the presidential residency on Tuesday, Jan 27th. The President, who had met Amma in 2007, praised the M.A.Center's contribution to the spiritual culture of the country as well as its social and environmental efforts. He encouraged Br. Shubamrita to expand the Center's charitable activities and to ignite the spirit of love and service, especially in the younger generation of the republic.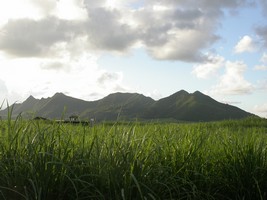 Mauritius is the only country outside of India, which has the fortune of having a Brahmastanam temple consecrated by Amma. The island is a natural marvel, with turquoise lagoons, dense forest and impressive mountain ranges. Apart from daily worship in the temple, Br. Shubamrita held 14 programs in all parts of the island: in Triolet in the North, Cascavelle in the West, Bel Air in the East and Palma, Belle Rose and La Source in the Center. Around 250 people attended the Sani Puja conducted at the M.A.Center in Quatre Bones. To the surprise of the devotees the puja took place simultaneously with the one conduced by Amma in Trivandrum.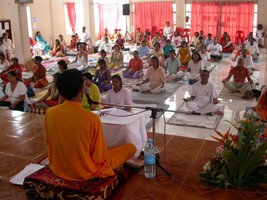 Over 100 people took part in an Integrated Amrita Meditation Technique® Course offered free of charge at the Center.
Br. Shubamrita also launched AYUDH Mauritus, a youth movement which aims to provide young people with the opportunity for personal development, social and environmental service.
Br. Shubamrita's visit served both as an inspiration to long-time devotees of Amma as well as a trigger for new people to learn about Amma's message of love and compassion.