Excerpts from Amma's 2009 New Year message
1 January 2009 — Amritapuri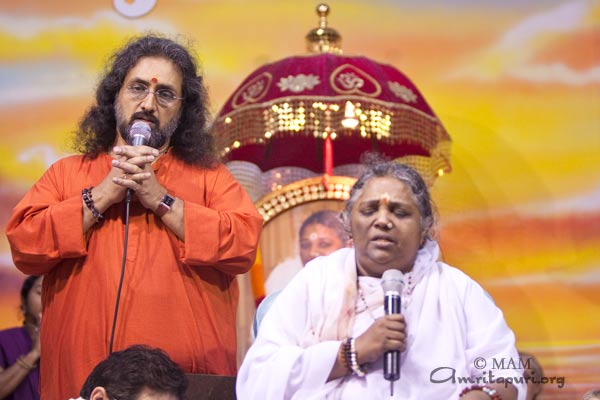 Thousands of devotees from around India and the world came to Amritapuri in order to begin 2009 with the auspicious start of being in Amma's presence. As Amma gave darshan, they offered performances from their various cultural heritages—including a flamenco dance from Spain, Bharata Natyam from India and a modern dance set to a soulful rendition of Amma's English bhajan 'Everyone in the World.'
When midnight struck, Amma immediately led everyone in several minutes of chanting the ashram's mula-mantra: Om lokah samastah sukhino bhavantu—'May all beings in the world be happy."
Then came Amma's New Year's address. "The year 2009 is taking birth in the midst of many different challenges," Amma began. "On this occasion, there are so many nascent problems upon which we need to deeply contemplate." Amma went on to mention the economic crisis, war, global warming, terrorism, increase of mental problems, the neglecting of the elderly and the deterioration of families.
"In fact, the most serious problem facing the world today is the pollution of the human mind and the increase in selfishness and cruelty." Amma said. "This is the root of all the others problems facing the world today. Everything in the world is changing—with one exception: our negative mental state! Our personality is a reflection of our mind. The ability of human beings to rise up to a situation and act is slowly disappearing. In the name of stability and competition, mankind is allowing their lives to be led by hatred, revenge and stubbornness."
Amma told the devotees that she felt if people took the necessary steps, moving forward with awareness and discrimination, that the various problems the world is facing could be mitigated. But she lamented the fact that human beings are losing their ability to stand up and face challenges and to follow through acting with determination.
It is only through spirituality, Amma said, that we can develop the strength that will empower us to face all the challenges life brings our way.
"In life, things rarely happen according to our expectations. This is why it is very important to develop the attitude of surrender to God. This will also help us to live in the present moment. If we learn to live in the present moment, we will be able to cheerfully accept any circumstance we may have to face in life.
"Only the present moment is in our hands. So, we must live in it joyfully, with alertness. It is said that the lifespan of a butterfly is only a few days to a week. Yet how joyously it flies around! It spreads delight and happiness to everyone. Our lives should become like this."
"We should make sure that the flame of compassion in our hearts doesn't become extinguished."
"Only a person who has known hunger will understand the pangs of hunger in another person. Only a person who has carried a heavy load will understand the strain of carrying heavy weights. If each of us really wanted to, we could make a big difference in the world. The benefit of all the good actions that we perform with a selfless attitude will definitely come back to us."
"We should develop a mind devoid of egoism—a mind that doesn't fall apart in failure, a mind that finds joy in giving and accepts adversity with love. Such a mind will never experience sorrow."
Amma concluded with a prayer: "May all our thoughts, words and actions benefit both others as well as ourselves. On this New Year's Day, let us pray that our lives become like incense sticks, spreading a beautiful fragrance to the lives of one and all."
Amma then led everyone in two bhajans—"Mata Rani" and "Kushiyonki." The latter was an ecstatic celebration of life, the former a compassionate prayer—attitudes to cultivate in 2009.
–Kannadi