24 – 25 Jan, Tiruvananthapuram, Kerala – 2015 Bharata Yatra
After Kanya Kumari, Amma visited Tiruvananthapuram, the capital of Kerala, for the annual Brahmastanam Festival.
The local AYUDH youth group had been very active in preparing the programme and helped in all fields of seva. To welcome Amma to the city, they held a 20 km long bike parade.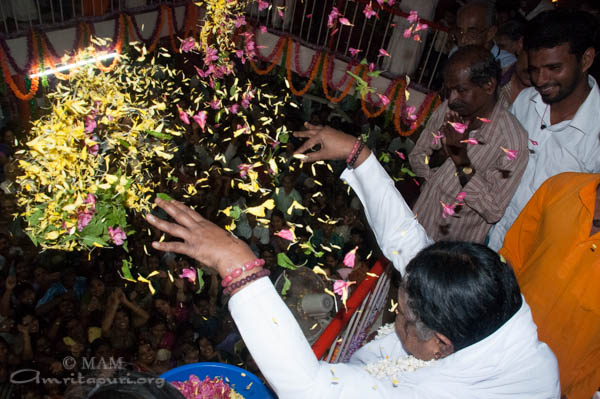 Once Amma arrived at the ashram she served prasad dinner and sang bhajans. Then she asked everyone to meditate and pray for world peace. Amma has been making this request at every stop of the tour -telling her children to imagine white flowers of peace falling like snowflakes, spreading peace within and across the world.
Continuing in a joyful mood, Amma asked two children traveling with the tour group to tell jokes over the microphone. With their innocent and funny remarks, the children spread smiles and laughter all around. As Amma asked the audience for questions, a western devotee made the suggestion to create an opportunity for devotees to take selfies with Amma during darshan, to which Amma replied: 'The real photograph has to be taken with the heart. It remains with us as a memory of love.'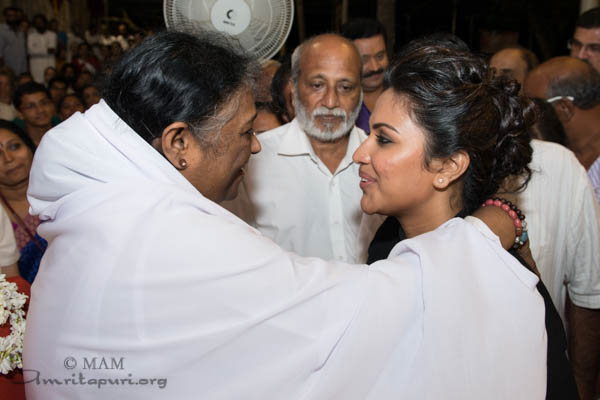 Many renowned personalities came to seek Amma's blessings. Amongst them were Shivakumar, Minister for Devaswam, cinema film stars Suresh Gopi and Amala Paul, and singer Ramesh Narayan. Children of the Trivandrum Amrita Vidyalayam also displayed stunning performances of both Eastern and Western culture.
With this, the first leg of Bharat Yatra 2015 came to an end, leaving all of Amma's local children, as well as the 800 people accompanying Amma on this tour, with many beautiful and blissful memories – the real 'selfies' of the heart, remaining forever with her children.
– Kannadi