20 Jan, Virudu Nagar, Tamil Nadu – Bharata Yatra 2015
On January 20th, Amma visited Virudu Nagar. The programme was held at the Khatriya Vidya Salai and included Amma's satsang, bhajans, manasa puja and darshan.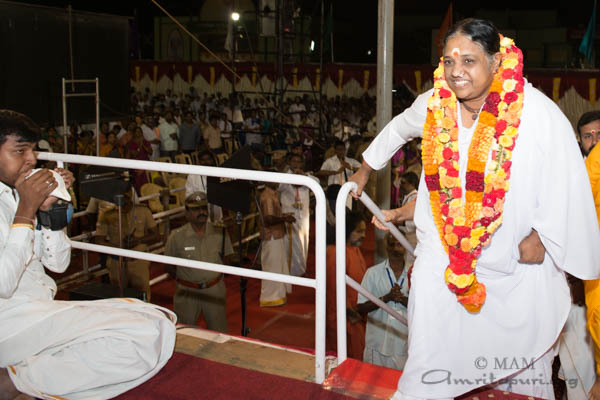 Welcoming Amma to Virudunagar, BJP State Presedent Tamizhisai Indira Soundararajan said: "A flower that removes the pain and sorrow of all, that gives joy and makes everyone smile, that spreads peace to one and all – what is that flower? It is Amma's divine smile (Sirippu).
"People come to Amma with a load of sorrows that can be likened to carrying a rock. But when they receive Amma's darshan, they feel light and fly like butterflies. No matter how much medicines a doctor gives, he can not remove the mental disease of the patients. Only Amma can accomplish this curing of the heart and make people feel comfortable.
"Amma's hug is meant to be the connection with the Atman. This connection is possible because of Amma's love towards everyone. On today's Amayasya day (no moon day) Amma has come as the full moon that gives joy to all. She is the light that removes the darkness within and without.
"Just like a fish hatches it's eggs by looking at them, Amma is Goddess Meenakshi who takes care of her children by her mere look."
During the public function, Amma distributed certificates for students of Embracing the World's Sivakasi JSS programme to acknowledge the successful completion of their vocational training courses.
During the last hours of the programme, local devotees brought the traditional 'mulapari' mud pots to Amma, performed a dance and received her darshan. Amma embraced not only every devotee, but also each pot and plant that was brought to her.
It had been more than 30 years that Amma visited Virudu Nagar. The last time had been in 1983, when she held a programme in the temple Periyar Kaliamman Kovil.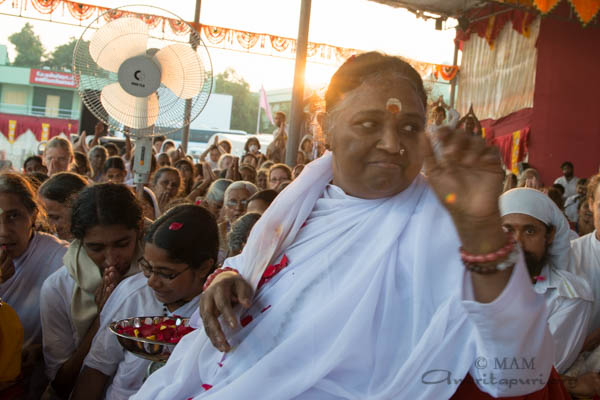 As the sun rose in the eastern sky, Amma still continued giving darshan. Fully radiant like a sun of love, Amma finally entered her camper, casting one last glance and smile at her children of Virudu Nagar. Along with many other beautiful memories of Amma's programme, this smile will remain in the hearts of the devotees forever.
– Kannadi