5-6 Sep 2014, Lima, Peru
Swami Ramakrishnananda began his South American tour with two days of programs in Lima, Peru. It was Swami's third visit to the country.
The first day saw a full hall at the Club Arabe enthusiastically participate in learning the Integrated Amrita Meditation (IAM).  Most people in attendance were trying mediation for the first time and were very grateful for the opportunity to learn Amma's technique.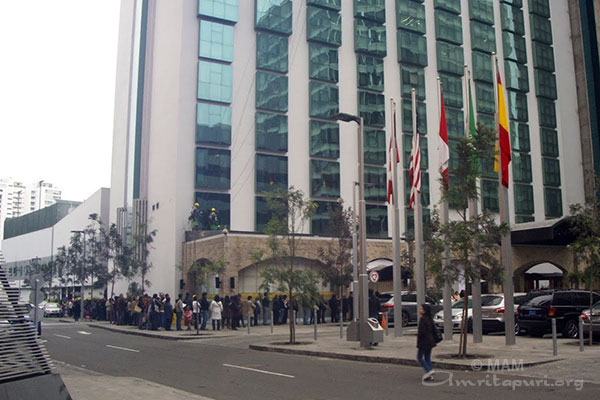 Later that evening Swami held a program in the center of Lima at the Swissotel. Well before the program began a large line snaked outside the hotel and around the block with several hundred people eagerly waiting to enter.  More than 600 people were on hand to hear about Amma's life and teachings, masterfully shared through Swami's insightful and entertaining satsang.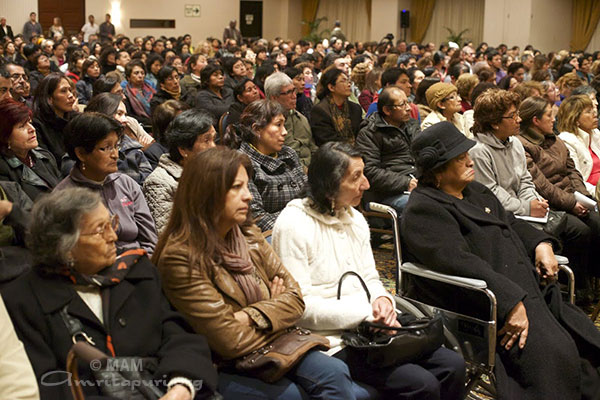 Following his talk, Swami led several bhajans, in Sanskrit, Spanish and English, each greeted by a round of applause.  The program concluded with a guided meditation but no one was ready to go home.  Before leaving everyone very patiently lined up and one by one took the time to personally thank Swami for coming and offering them such a wonderful evening of inspiration.