Stanford Holds "Conversation on Compassion" with Amma
2 June 2014 – Stanford University, California
Amma participated in Stanford University's "Conversations on Compassion" series on Monday, answering questions posed by neurosurgeon Dr. James Doty, the founder and director of the university's Center for Compassion & Altruism Research & Education (CCARE). The hour-and-a-half-long dialogue took place in Stanford's 1700-seat Memorial Hall and was the most attended event in the series' history.


Responding to Dr. Doty's inquiries, Amma said, "For me, compassion is the most important factor in our lives. It is the first step. If we take this first step courageously, without fear, then all of our decisions and subsequent actions and their results will have a special beauty, spontaneity and power. Human calculations may be wrong, but actions born of true compassion can never be wrong because compassion is the law of nature, the power of God, the heart of creation. If we tune the individual mind with compassion, then we, as individuals, are no longer really performing actions, but are merely allowing creation to act through us. And this is the power of compassion. In truth, the spiritual path both begins and ends with compassion."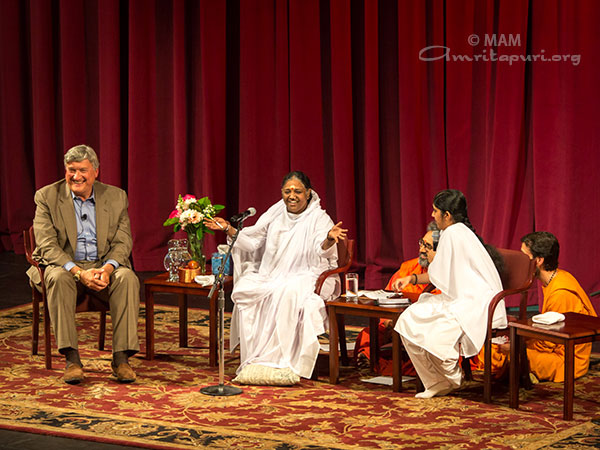 Started by Dr. Doty with an initial donation provided by His Holiness the Dalai Lama, CCARE investigates methods for cultivating compassion and promoting altruism within individuals and society through rigorous research, scientific collaborations and academic conferences.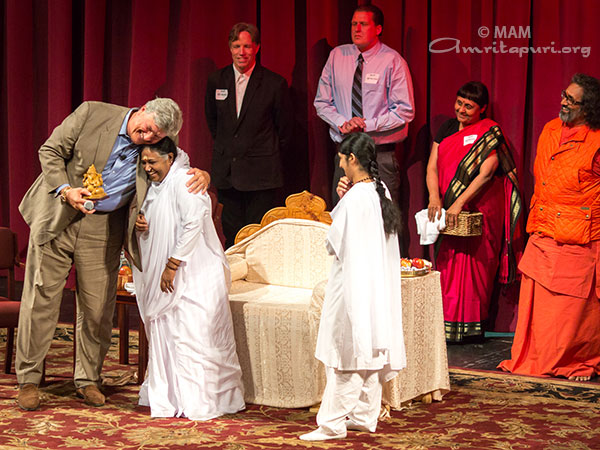 Previous participants in CCARE's "Conversations in Compassion" series have included a diverse array of modern luminaries, including Buddhist monk Thich Nhat Hanh, the English translator to the Dalai Lama, Thupten Jinpa, PhD, spiritual teacher Eckhart Tolle, philanthropist/business-magnate Lynn Tilton, director Tiffany Shlain, neuropsychologist Rick Hanson, Google software engineer Chade-Meng Tan, photographer Lisa Kristine, writer Pico Iyer, Zen Buddhist Roshi Joan Halifax, hotelier Chip Conley, priest and social activist Robert V. Taylor, as well as several of Stanford's faculty and administrators.
The session concluded with CCARE members and many people from the audience coming forward to receive Amma's darshan.
—Sakshi