During AYUDH's 2013 youth summit in Germany "Our World, Our Vision, Our Future," a group of young people were introduced to playing harp as a means of therapy. At the conclusion of the camp, two youth were awarded a harp with the idea that it would be used by them to play at care-homes in their country throughout the year. This is part of AYUDH's new "HOPE—Harps of Peace" program, mentored by the world-renowned harpist and founder and director of the International Harp Therapy Program, Christina Tourin.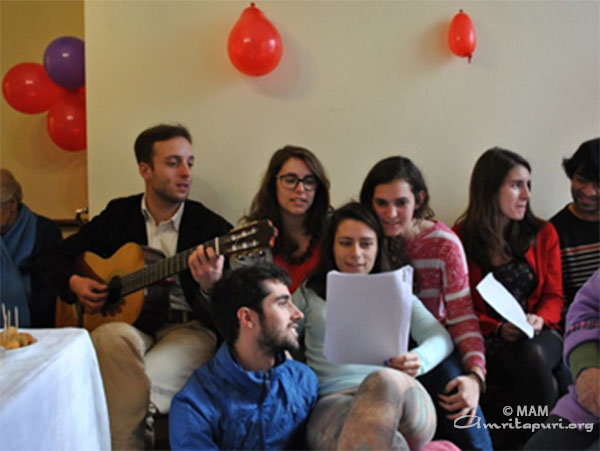 In March 2014, members of AYUDH visited two care-homes for elderly people in the Lisbon area in order to brighten up their day with the soothing harp sounds and their youthful vibrancy. They brought the harp, as well as some other instruments, including a guitar, hang drum.
At one nursing home, the group spent time speaking with some elderly ladies, getting to know them and listening to their stories. They visited many bedridden people who often get only one or two visitors a year, playing music, singing and talking. In one house, they were attended the birthday party of a lady who just turned 101.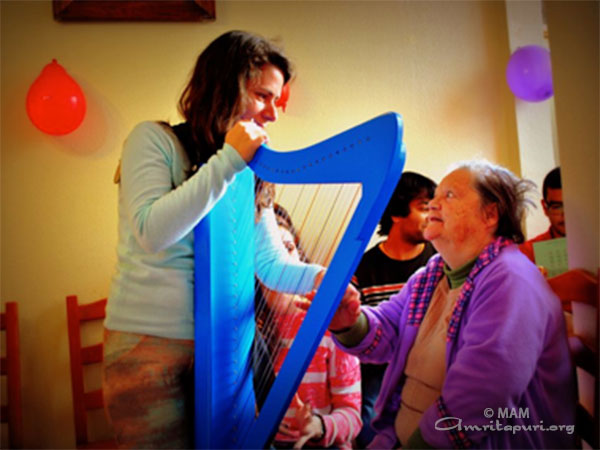 One lady they visited had recently suffered a stroke. She could not move or talk. Blinking was her only means of communication. "As soon as she saw us, she opened her eyes wide, trying to see what all instruments we had brought," recollects one of the AYUDH members. "As we played, she started moving her head, trying to somehow get up. Her mouth started to move a little and she made a little sound like, 'Ah!' It was an incredible moment for all of us! Even the staff of the care-home were amazed. We all felt such compassion and love in the room. Remembering it gives me a very warm feeling in my heart!"
– Dass