17 Mar 2014, Amritapuri
As she does on every Monday when she is in Amritapuri, Amma came to meditate on the Ayurveda beach in the afternoon. After the meditation, as it was the Holi celebration day, she asked devotees to explain the meaning of the special festival, the festival of colours.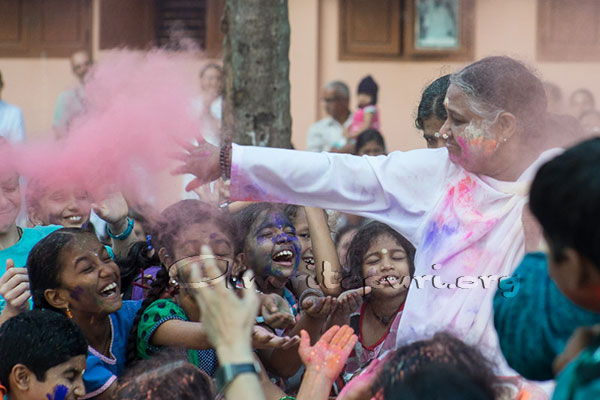 As soon as the devotee finished his explanation, other devotees came to Amma with a tray full of colours. He gently dabbed Amma's cheek with a sandal colour powder. A few others joined too, smearing Amma's face with different colours: pink, yellow, green, orange, blue… Amma was beaming with joy with a mischievous smile, as "Mata Rani Ki.. Jai" was called out.
She started too in return smearing the faces of everyone around her with different colours. Everyone's face was lit up with joy.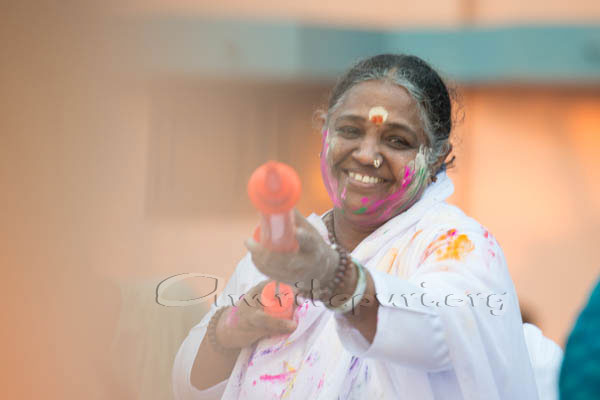 Amma was then handed a 'pichkari', filled it with colored water, and out went the streams of colored water, spraying on the faces around.
Amma sang 'Ayi he holi', with everyone joining in and clapping joyfully… Another memorable special time with her, was stored in the hearts and souls of all present.
– Kannadi