Amma and the group arrived in San Ramon ashram in the evening of Nov 17th after a long flight from Barcelona, Spain. It was a full day of darshan the very next day. The local county had declared a drought for the region, for it had not received rain for months. The very next day, it was pouring heavily. Amma brought with her the heavy rain to quench Mother Earth's thirst as well as the spiritual thirst of Amma's children who had been excitedly waiting for her since her visit in the summer.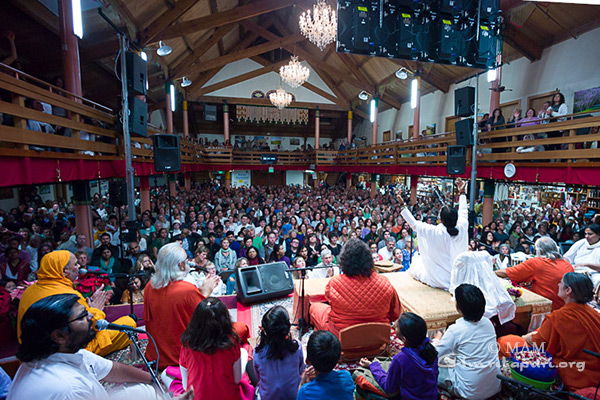 The rains were followed by very high winds for the next two days in combination with the chilly weather. But, as usual, nothing could keep Amma's children from flocking to the place from even far away. They were ready to wait outside, especially for the final evening program, to get a token for Amma's darshan. Amma says, "Where there is love, there is no feeling of difficulty and suffering." One could witness the perfect example here.
The last three days of the programs was a spiritual retreat with Amma. During the question and answer session on the second day of the retreat, a question was posed asking Amma what should AYUDH (Amrita Yuva Dharma Dhara – the youth wing) kids do to remain focused on Amma and the spiritual practices and principles Amma teaches them. Amma said that today's youth are the pillars for tomorrow's world. The young have the potential to make a change in the world. Amma stressed on how the AYUDH children could inspire others by coming together to take initiatives to protect Mother Nature. Amma said that they could organize tree planting drives, initiatives for preserving traditional organic seeds, cleanliness drives etc. It is all about channeling the energy the youth have for the right cause.
Later, Amma served dinner and after bhajans there was an array of cultural programs put together by Amma's San Ramon children, comprising of instrumental, vocal, dance performances and a humorous play.
The final evening program went on continually for almost 16 hours, ending by 11 am the following day.