10 Sept 2013, New Delhi
Mata Amritanandamayi Math announced two massive charitable projects: a 50-crore relief-and-rehabilitation project in the flood-ravaged state of Uttarakhand and a programme to adopt 101 villages throughout India.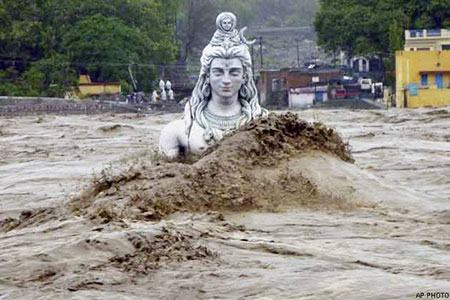 "In Uttarakhand, MAM will build approximately 500 houses destroyed by the disaster," said MAM's vice-chairman Swami Amritaswarupananda in a press conference in New Delhi. "These will be the totality of homes destroyed in 42 selected villages in the districts of Rudraprayag and Uttarkashi."
The Swami also stressed that MAM would not only be rebuilding houses in Uttarakhand, but would also be providing scholarships to poor children, providing pension to widows and handicapped people, building an orphanage/care-home for children who no longer have a proper care structure in place, and helping to empower women by assisting them to set up home-based SHG businesses.
The Swami also announced the advent of what he said would amount to the most massive humanitarian programme ever undertaken by the Mata Amritanandamayi Math: the adoption of 101 villages throughout India with the aim of helping them become self-reliant and thriving.
"In order to accomplish this, MAM will draw upon the totality of the humanitarian programmes it has established over the past 30 years," the swami said of the programme, which he said is being called the Amrita Self-Reliant Village Programme (Amrita Swasrayagramam).
Both the Uttarakhand reconstruction and the 101 village-adoption programme will be officially launched during Amritavarsham 60 on September 26-27.
(Read the blog of Brahmacharis seva in the disaster hit areas)