Br. Shubamrita Chaitanya visited Botswana, Zambia and South Africa from April 2 to April 19.
Botswana
Two public programmes were held in Gaborone. It was Br. Shubamrita's third visit to the country, and the programmes evoked a very good response.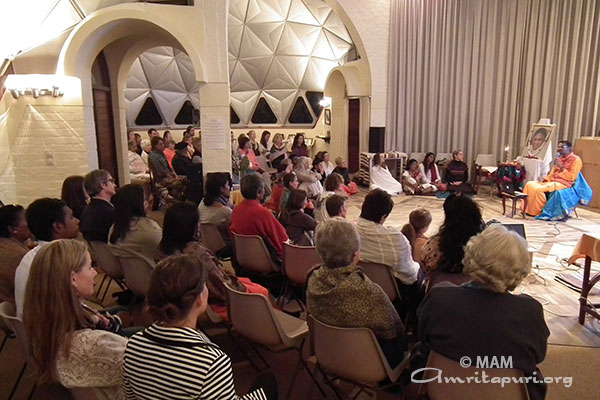 Zambia
It was the first time that a representative from Amma's organization visited Zambia. Br. Shubarmtia held talks, devotional singing, meditation sessions and house visits in Lusaka and Livingstone. The two public programmes were held in Lusaka, in the Radha Krishna Mandir and in the Vedanta Centre. In total, more than 500 people attended both events. He also addressed a gathering of LILA, an organization supporting many deserving causes in Zambia, on "Amma's Mission and Vision."
South Africa
Last on his tour, Br. Shubamrita visited three cities in South Africa: Johannesburg, Durban and Cape Town. Apart from two evening programmes in Johannesburg, Br. Shubamrita also addressed 600 students of Lenasia South Secondary School on April 12th. The talk was titled "Embrace Your Dreams" and encouraged the students to pursue their individual talents and capacities.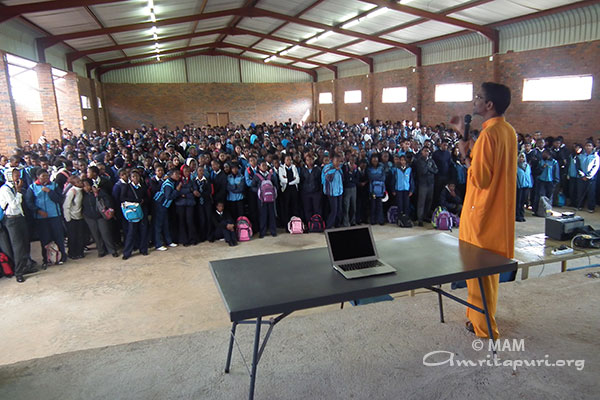 Then Br. Shubamrita visited a school and handed out free lunch packets to children from challenged backgrounds and interact with them. He also had a meeting with Ms. Nozipho January-Bardill, Committee member on the Elimination of Racial Discrimination Board, and Founding Chair of SA Gender Education and Training Network, who expressed great admiration of Amma's humanitarian work and conveyed her invitation to Amma to visit South Africa and extend her arms of compassion to the less fortunate of this country.
April 14th, which is celebrated as Vishu, Bihu, and Baisakhi in India, was celebrated by Br. Shubamrita in Sarva Dharma Ashram in Durban, where he was invited for a talk. Durban being the home to the largest Indian population outside of India, many South African Indians were happy to have an opportunity to take part in the satsang and bhajans. After the talk, he distributed meal packs to several hundred children from the surrounding settlements and paid a visit to nearby old-age home and orphanage.
As the last stop of the tour, Br. Shubamrita held an evening programme in the Sufi Temple in Cape Town on April 15th. Members of all sections of society attended the event and the enlightening talk: "Happiness is a Decision." They also participated in the soulful bhajans and guided meditation. The last programme in Cape Town was held at the Brave Foundation headquarters on the 17th.
This journey showed that this part of the world has already been bated in Amma's river of love–a river that is ever ready to grow in size and depth through the sincere devotion and longing of Amma's African children.
– Nath