11 Nov 2012, Vigyan Bhavan, New Delhi
Hon'ble President of India Pranab Mukherjee launched the latest version of Amrita University's E-Learning platform A-VIEW 3.0  (Amrita Virtual Interactive E-Learning World) on the Aakash 2 tablet.
The President A-VIEW Server with 1 Gbps link was unveiled and dedicated for the nation. Any institution of higher education can now use A-VIEW free of charge with this server.
The President said that technology enhanced learning was necessary for India, and these novel initiatives in Higher Education will be useful for Nation Building.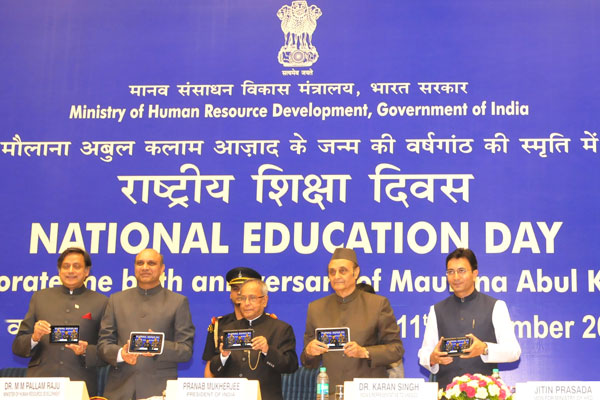 More than 14,000 teachers and students across 240 remote centers in India attended this event live. They are currently attending a national workshop about Aakash 2 using the A-VIEW software platform. Live teaching was demonstrated, and participants at a few remote centers showed their new Aakash tablets.
A-VIEW 3.0, the latest version, allows sharing of multimedia like 2D and 3D. A-VIEW comes packed with various unique knowledge sharing modules, high performance, better reliability, and features to handle huge classes easily. "A-VIEW addresses the most critical issue of India's Education today: Millions of eager students wanting to learn but who are not fortunate enough to have well-qualified teachers" said Prof. Kamal Bijlani, Director, Amrita E-Learning Research Lab.
A-VIEW is currently being used by over 350 Universities and over 1000 colleges, and is provided free of charge for higher education. Earlier in June 2012, A-VIEW was used by IIT Bombay to train 10,000 teachers online at different geographical locations, which is the biggest online program undertaken in India, and probably across the globe.
The Union Minister for HRD, Dr. M. M. Pallam Raju; Ministers of State for HRD, Dr. Shashi Tharoor and Shri Jitin Prasada; Irina Bokova, Director-General of UNESCO, and Dr. Karan Singh, India's representative to UNESCO were also present on this occasion.
For more visit www.aview.in