October 31 – November 2, Toulon, France – 2012 Europe Yatra
After her visit to Holland, Amma held 3 days of programs in the Zenith Omega Hall. Massive crowds took advantage of the holiday weekend and came to celebrate 'All Saints Day' in Amma's presence. Amma gave almost a continuous three days of darshan as the 'morning' programs stretched well into the early evening and the 'evening' programs finished early the following morning. Even after the final evening program had ended near midday the following day, the hall was still completely full of devotees who wanted just one more glance of Amma before she left the building.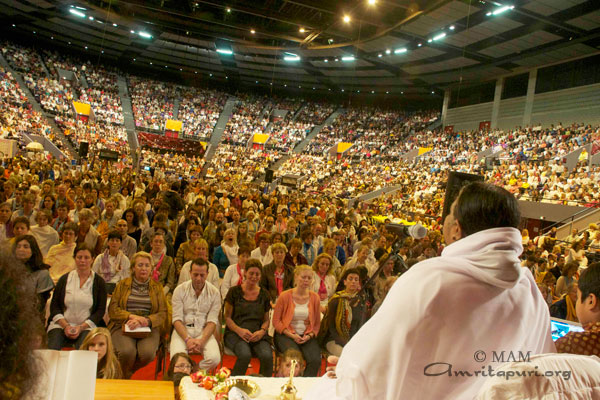 After the programs concluded, Amma visited the new ashram just outside the city of Toulon. The ashram building was originally built in the 13th century. It was originally used as a mill and is set on the edge of a small river and waterfall.
Amma spent the day there with the local devotees, and shared stories and jokes, sang and then served a prasad lunch to everyone. Amma then sang bhajans and danced.
Amma then travelled to Barcelona, Spain for the next stop on the 2012 Europe Yatra.