October 13-15 Munich, Germany
This year marked Amma's 25th visit to the city of Munich. There was a strong Bavarian spirit to the programs as each time Amma was welcomed to the stage there were rows of devotees dressed in traditional costumes of lederhosen and dirndl outfits and playing folk music.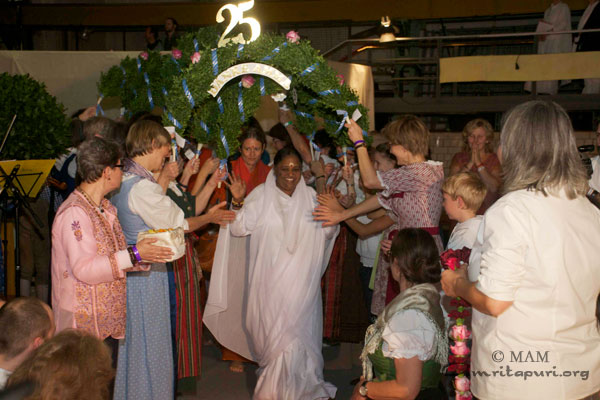 To enter and leave the Zenith Halle, Amma walked along a long balcony above the crowd of devotees that filled the hall each day. It was always a beautiful and celebratory scene to see Amma slowly walk along the balcony looking down to all the applauding crowd, showing their appreciation to Amma.
After the last program in Munich, Amma wanted to show her appreciation to all the devotees that had worked so hard to arrange the program, so she called everyone to the MA Center Munich. She spent the evening serving dinner, sharing jokes and stories, singing bhajans, and even danced with everyone.
Early the next morning the tour group travelled on to Paris for the next stop on the tour.