27 Sep 2007, Amritapuri — Amma's 54th Birthday celebrations
With the conclusion of Amma's talk began the official public program. Many dignitaries were present, including Sri. M.V. Rajasekhar, the Honourable Union Minister of State for Planning; Sri. S. Sharma, the Honourable Minister for Fisheries & Registration of Kerala; and Swami Prakashananada, the chairman of Sri Narayana Guru Dharma Sangha. Upon seeing Amma, Swami Prakashananda immediately embraced her like a child and placed a shawl around her neck.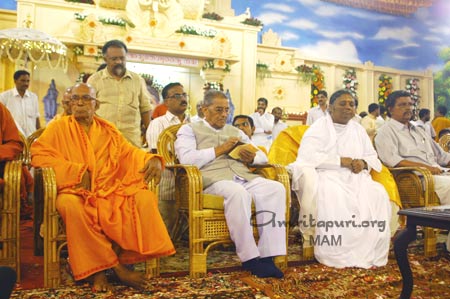 Swami Amritaswarupananda delivered the Welcome Speech. Speaking about Amma's love and compassion and how these were the sole source of the Ashram's success in the field of social welfare. Swamiji said, "One's compassion can only be as big as one's love. And in Amma, we see a love as big as the cosmos—even bigger. It is 'A Love Beyond.' In fact, Amma's heart is so big that the entire universe fits inside it—the people, the animals, the trees and flowers, planets, moons, constellations…. This is what is meant by 'Jagad-amba'—mother of the universe—a mother who loves all of creation as her own child. … With all of Amma's humanitarian works, compassion has been Step 1, Step 2 and Step 3. There is no 'calculation' with Amma. In her own words, 'Amma sees a need and she just flows to fill it.' That is how compassion works."
The two main new social-welfare projects inaugurated by the Ashram were those aimed at fighting the epidemic of farmer suicide through education and the reduction of financial strain placed upon impoverished agricultural families. The first project, Vidyamritam, is providing 30,000 full scholarships for children of farmers living below the poverty line. Thousands of 10-to-15-year-old children enrolled in the program were in attendance, having come by train and bus from locations in Maharashtra, Kerala, Andhra Pradesh and Karnataka. Twenty-five of the children received their first education financial aid stipends onstage from Amma and Union Minister M.V. Rajasekhar. These were symbolic of the 30,000.
The second farmer-suicide prevention program is providing vocational training and start-up capital to help 5,000 groups of women from agricultural families to form home-based businesses. This was inaugurated by Kerala State Minister S. Sharma. "The social service being rendered by the Mata Amritanandamayi Math is an example for the entire world," Sharma said from the dais. He then thanked Amma on behalf of the Kerala Government for her financial assistance to the children of agricultural families living below the poverty line. At this point, Vijay Tulsidas Jadav, an MLA from Maharashtra, handed over financial-aid checks to five self-help groups from Maharashtra, symbolic of the 5,000.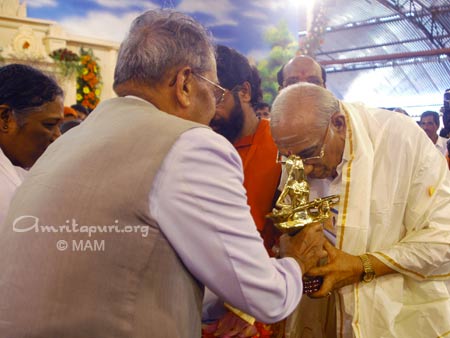 Next came the awarding of the Ashram's Amrita Keerti Puraskar. This year the award went to Sri. Paravur Sreedharan Tantri for his perpetuation and contributions to the traditions of Vedic astrology and temple tantra. Union Minister M.V. Rajasekhar bestowed the award. In his acceptance speech, Sreedharan Tantri applauded the noble works of Amma and her ashram.
The Ashram released a total of four new books: Pray & Serve: Amma & The Tsunami, a 300-page hard-cover picture book detailing the Ashram's 200-crore tsunami relief-and-rehabilitation program; Eye of Wisdom by Swami Ramakrishnananda; Amrita Teertham by Swami Turiyamritananda Puri; Amrita Prayana by Swamini Krishnamrita Prana; and a commemorative birthday supplement from Matruvani, the Ashram's monthly spiritual magazine.
As part of the Ashram's long-term tsunami relief-and-rehabilitation program, Amma handed over keys to nursery schools built by the Ashram in Alappad Panchayat to Sri. Rajadas, the panchayat's president. Office-bearers of Karya Yogams from Alappad and other coastal regions then came in procession and offered Amma purnakumbha out of reverence and gratitude for the Ashram's tsunami-relief service.
This was followed by the distribution of sewing machines to impoverished women by Swami Prakashananda.
The public program ended with Amma conducting a mass marriage of impoverished couples, with the Ashram sponsoring all the tradition wedding items, such as wedding saris, dhotis and gold ornaments.
By 1:00 p.m., Amma had begun giving darshan. Students from all of the Ashram's Amrita Vidyalayam Schools and from Amrita Vishwa Vidyapeetham performed various cultural programs.
Free food was provided for one and all.
Other dignitaries present on the dais, included former Central Minister Sri. O. Rajagopal; former State Minister Sri. C.V. Padmarajan; Swami Rithambharananda, general secretary of Sri Narayana Guru Dharma Sangha; KPCC President Sri. Ramesh Chennithala; Bharatiya Vichara Kendra Director Sri. P. Parameshwaran; poet and film-director Srikumaran Thambi; poet and writer P. Narayana Kurup; State General Secretary for the Deevara Sabha, Sri. V. Dinakaran; SNDP General Secretary Sri. Vellapally Nateshan and former Kerala MLA Rajan Babu.
-Sakshi