Jun 6- 13 San Ramon, CA – 2012 America Yatra
San Ramon is home to Amma's first American ashram.  While there are always new faces, there are also always lots of familiar faces. Children whom Amma fed their first solid food have grown up now and are coming to her for their weddings–or even for their own children's Annaprasham (first rice)! The eight days' programs in San Ramon are like a large family reunion.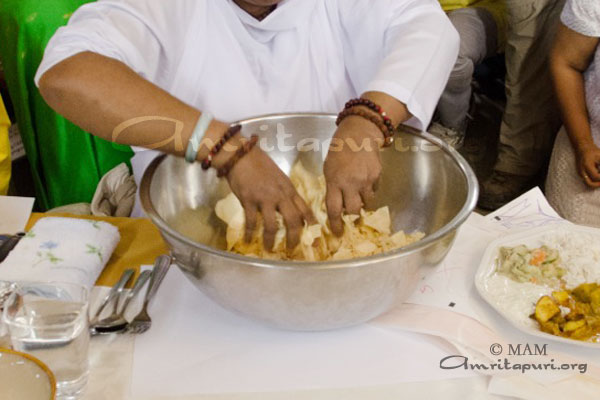 One thing families often do when they get together is sing, and Amma's big family is no different.  At the end of the second full day of darshan, in fact, even before darshan ended, Amma decided to sing.  This was a special treat, for on the full days, when Amma begins darshan at 11 in the morning and doesn't stop, darshan continues usually until at least ten or so–and that means no formal bhajan program.  The swamis do come and sing at the ordinary bhajan time–but people don't get to hear Amma sing.  This particular day, however, when "bhajan time" came along, Amma decided to participate–even as she continued hugging people.  She sang five songs, ranging from lively songs like Gopiyarkal, with moments of laughter, to the moving, more solemn strains of Kodannu Koti–sometimes apparently forgetting to let go of whoever was in her lap for whole minutes at a time.
When there's a family reunion, thoughts naturally turn to those in the family who have not been able to gather.  When Amma finished the first of the two Devi Bhavas in San Ramon, she reached out to the 'missing' family members. Having tossed a special handful of petals their way (via the web cast connection to Amritapuri and several other centers), she continued the connection when she was about to leave the hall.  Stopping to gaze lovingly at the faces of children half-way around the world, but as close as the webcast screen on the laptop held for her, she offered words and waves and kisses.
Another thing that happens at family reunions is eating!  If there are snacks, they are shared–and sure enough, when people brought Amma special treats during darshan (from fresh vegetables to home-made vadas to sweets), she would take a bite and then gesture that the rest should be shared around as far as it could be stretched. Like a good mother, she took thought for all her children, not just those nearby; time and again she indicated that the people on the balconies, who might expect to miss out, must be included; dutifully, someone would arrive on the balcony with a bit of Toblerone chocolate, or a palm full of vada crumbs, and offer them even to those who hadn't seen what had gone on, but had felt wistful upon hearing the laughter.
The second night of a retreat is the night Amma, having answered her children's questions as the day moved from warm and sunny afternoon to cool and shadowed evening, leads the crowd from the open field into the mandap, where she serves a plate of prasad to each one, and then sits with the children, to each of whom she gives a papadom.  A few years ago, Amma surprised everyone after the papadom procession by suddenly reaching her hands into the big bowl with a few papadoms remaining, and breaking them all into small pieces–doing with food what all little children want to do, but mostly are told not to! That wasn't all: she then added ice cream, and mushed the crumbled papadoms and ice cream all together!  This has become a tradition since that first time, and now someone stands ready with a BIG mixing bowl of ice cream, and extra papadoms are on hand–because of course everyone will want a taste of this prasad when Amma gestures for it to be offered around!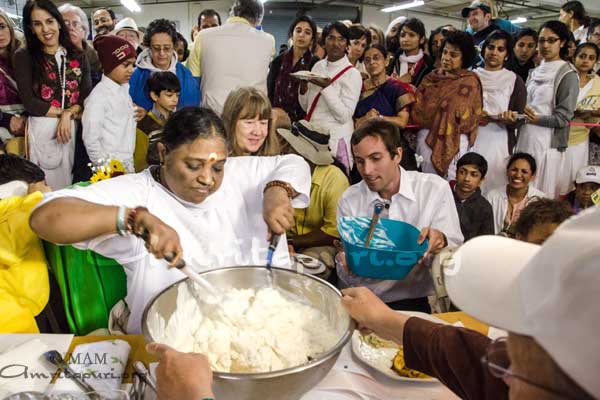 What was different this time was every parent's nightmare–the worry of every parent who has tried to teach the little ones proper table manners: at least one child was watching, learning, and imitating this normally 'unacceptable' behavior!
Sitting right next to Amma was a small child. This child watched intently–and with perhaps some surprise–as Amma crumbled papadoms into her dish, and even more intently as she accepted the second bowl of ice cream and poured it into the papadom and ice cream mixture, and stirred.  Fascinated and inspired, the child did as any good disciple would, and tried to follow the Guru's example. She turned to the place beside her, took up a second ice cream dish, poured the remains into her own dish, and began stirring!
Amma left the hall as her big bowls of crunchy ice cream were passed around; dessert for all at the San Ramon family reunion.