3 Jan 2012, Amrita University, Amritapuri
Prof. Muhammad Yunus, 2006 Nobel Peace Prize Laureate and Founder, Grameen Bank – a micro finance and community development bank started in Bangladesh that makes small loans to the impoverished – came to Amrita University's Amritapuri campus to inaugurate International Conference on Technology Enhanced Education (ICTEE2012).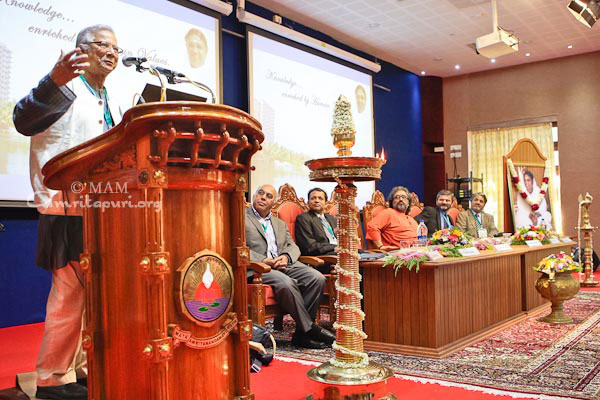 In his inaugural address he said, "It's quite an experience to be in this campus. With all these achievements, you would be imagining whether you are from this region or located right in the heart of New Delhi. As unless, you are in the big cities, big national centers, you cannot get any where; but the surprise is that we are right in the middle of this remote village, under the shadows of the coconut trees all around us, and all these achievements, a world class performance, has been made in this location. This merits much applause for this university and its team, under your leadership. I am very grateful to you for inviting me because this also gives the opportunity to meet the great personality Amma, for the first time. I had no idea what the accomplishments of this inspiring personality were until I've come here. The video show (Embracing the World) in the morning and the achievements of this conference of the university in the academic world, gives me a window into the activities and the expanse of ideas of this great personality. I am humbled by seeing all these accomplishments, both in India and globally, in such a short period."
Then he went on explaining how he brought change in the Bangladesh by empowering women combining technology and service. In his inspiring speech he reiterated that the purpose of education is to unleash the creativity of the individual to solve the problems of the people which will also help bring in financial gains.
After the function at the University, Muhammad met Amma at the ashram. In the meeting he expressed his willingness to share his wisdom with Amrita University for its research and development programs.
Later he commented in an interview with Amrita TV that "Amma has done more work than many governments have ever done for their people… her contribution is enormous."
-Kannadi