In September of 2001 Swami Purnamritananda Puri, one of Amma's senior-most disciples, spent two weeks in Japan conducting programs for Amma's devotees throughout the country. He was accompanied by Br. Shantamrita Chaitanya, who served as translator and organizer of the tour.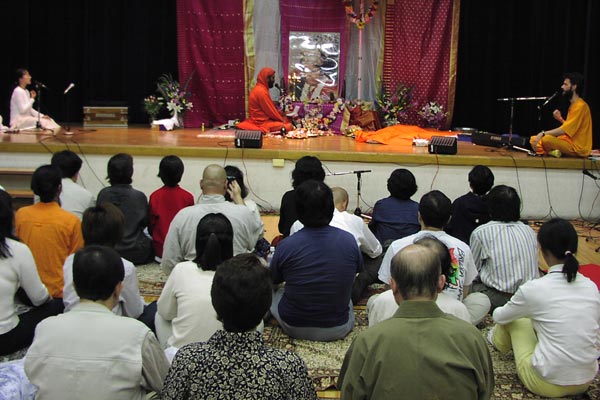 Swamiji's programs were well-attended even in mountain areas outside Tokyo. Amma's many devotees throughout the country gave swamis a warm welcome wherever they went.
A special puja was held on 22 September during second retreat near Osaka, the second largest city in Japan, combining Lakshmi Puja, Durga Puja, and Bhagavati Seva. The location was an ancient Buddhist monastery called Koyasan, where Tantric Buddhism was first practiced in Japan 1300 years ago.
Swamiji also met with Japanese Shugendo practitioners in Oita, including the head priest of the temple where program was held performed the homa.
Swamiji's flute playing was so popular that they asked him to play every single program at the end of bhajans. He always made the last song a meditation, asking the devotees to focus on the sound of the flute. Many devotees said that it was very helpful and that in this way they experienced true meditation for the first time. Their minds merged in the flute's peaceful sound vibrations.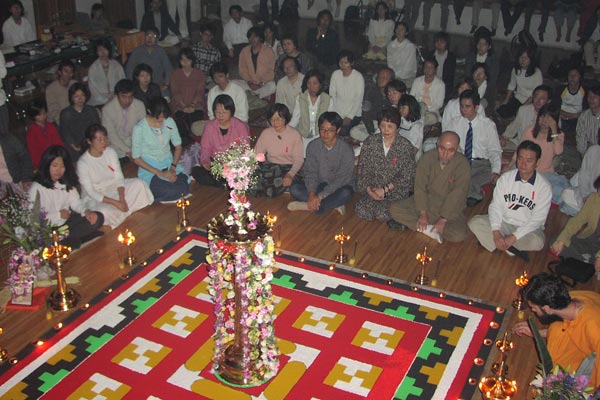 Swamis performed Bhagavati Seva during Amma's birthday celebrations in Japan. The size of the padmam (sand painting) was nine feet by nine feet and took eight hours to make. The puja was preceded by a special birthday program given by Swamiji, which included satsang, meditation, bhajans and prasad to all present.