25 Sept, 2002
On Amma's birthday proper, Amma descended from Her room at 8:45 a.m., pausing for a moment to allow Her largest darling son, the elephant Ram, to place a garland around Her neck. All those who had packed into the darshan hall rose to their feet to try and catch a glimpse of Amma as She made Her way up the center of the hall to the stage. Upon reaching the stage, Swamiji performed the pada puja and placed a beautiful garland of pink and white lotus flowers around Amma's neck. He then proceeded to cover Her feet with lotus petals while chanting Amma's 108 names.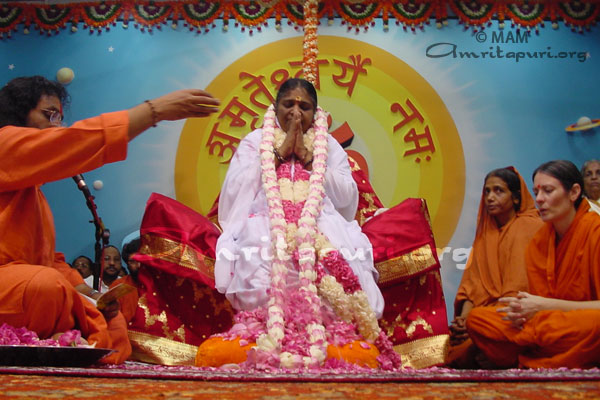 After blessing everyone with her satsang, Amma gave darshan until 5:30 p.m. When She returned a few hours later to begin the Devi Bhava darshan, Her way was lit with thousands of tiny oil lamps and a path of lotus petals was laid all the way from Her room to the stage. However, Amma walked to the right of the flowers – never stepping on a one. If only all the world could imbibe just an infinitesimal fraction of such humility.
Amma's Devi Bhava darshan lasted from 9:00 p.m. till 10:15 the next morning.