18-20 Oct, Houten, Holland — Europe Yatra 2011
Amma returned to central Europe after her short trip to the Scandinavian country of Finland for the next stop Amsterdam, Holland.
A large crowd gathered to welcome Amma to the city, as she greeted everyone with high fives.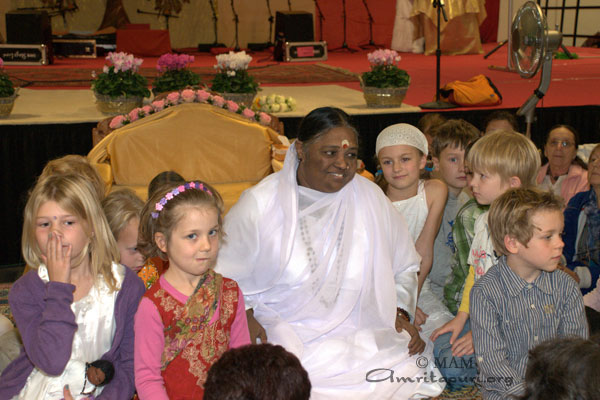 The three day program included Bhajans Meditation, Satsang and an Atma puja which saw countless curious youngsters crowd the stage to watch Amma perform the ceremony.
Renowned computer scientist, Andrew Tannenbaum, the father of operating systems, came to meet Amma, and shared how he was amazed at Amma's ability to be able to take care of so many projects and at the same time spend, despite the fact that she spends all day meeting people for darshan.
World champion kick boxer Lucia Rijker, better known for her role as the fierce boxing opponent of Hillary Swank in the Hollywood blockbuster 'Million Dollar Baby' also came to receive Amma's blessings.