15 – 16 Oct, Helsinki, Finland — Europe Yatra 2011
After the Swiss Program, Amma flew directly to the capital city of Finland, Helsinki to conduct 2 days of programs there.
She was received by the famous actor and member of Finnish Parliament, Mr Jani Toivola. Later during darshan, The Chairman of Vantaa City Government and the member of Finnish Parliament Mr Tapani Makinen also was on hand to welcome Amma.
the Chairman of Vantaa City Council and the member of Finnish Parliament Mr Antti Lindtman was also present to receive her Darshan.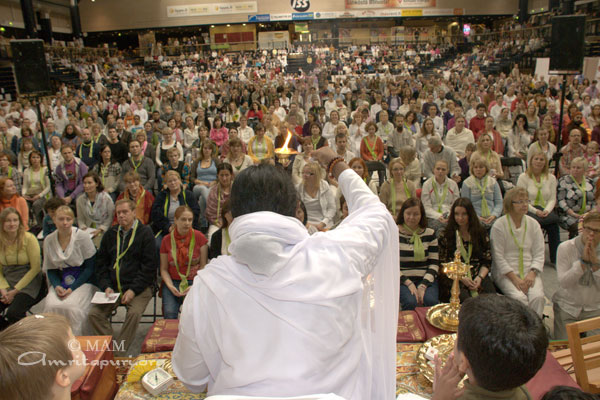 Mr Tapani Makinen officially welcomed her to Finland saying "With Her embrace of Love, Amma has changed millions of people. Through Her own example and selfless work, Amma has inspired millions of people for selfless service. Amma's charitable projects are unique and extraordinary. If compassion awakes within us, it reflects also in others. The projects are remarkable. Thousands of Finnish people have come together to receive the hug of love and strength. We welcome Amma from the bottom of our hearts."
A host of celebrities turned up to receive Amma's blessings, including the well known Finnish Rapper, Paleface who performed for Amma as she was giving darshan.
Also, a well-known Scandinavian band came to pay tribute and show their love and respect.