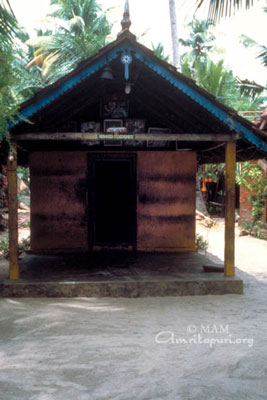 The ashram grew around Amma's childhood home. It was a modest house with 3 rooms and a kitchen. It is built on the site of the original thatched hut, where Amma was born.
When Amma first started Krishna Bhava beside the beach road, Her father became very anxious for Her safety. Adjoining his house was the family's cowshed. He made space for Amma to give the Bhava darshans there. That cowshed was eventually converted into a temple (Kalari), which still adjoins the house and is used for pujas.
The ashram started when the first three disciples asked Amma's father if they could stay with Her permanently. He gave them a space on the backwaters near the Kalari. Using mud and sand as landfill, they reclaimed the land, and built a small palm leaf hut.
The Temple
The construction of the main temple started in 1985. In those days, all the disciples helped with the construction, especially the concreting work. Often Amma would lead the work shifts. Above the central entrance stands a majestic statue of Lord Krishna driving the chariot of Arjuna during the Mahabharata War. Lord Krishna gave the teachings of the Bhagavad Gita at the outset of the war.
The temple's inner shrine is dedicated to the Goddess Kali who is the symbolic destroyer of negative tendencies.