On May 15th, 2000, a baby elephant, the gift of a devotee, arrived in Amritapuri. The little one had traveled for 5 days by ship and truck from the Andaman and Nicobar Islands where he was born. He was just 15 months old. His mother from Bihar and father from Kerala worked in the forests. According to the experts, Ram is perfectly formed. There are 18 signs which define a good elephant. Ram already has fifteen of these and as he grows the last 3 should appear.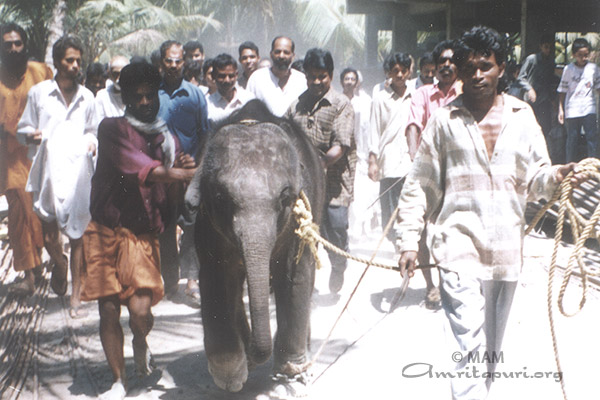 Ram steps out of truck, released from the confines of the truck and despite his leg chain he ran along the path to the ashram where he received a welcome bath and met his new family.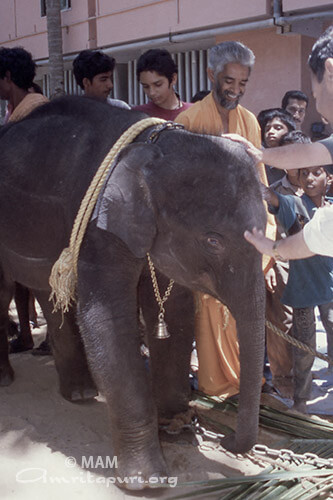 Indian Hindu temples traditionally keep elephants because they are said to have a positive influence on the divine power that permeates the temple environment. To welcome the special newcomer a ceremonial puja was arranged on the steps of the temple.
The ashram residents crowded into every corner to watch and wait for Amma who was expected to arrive at 1 p.m. to name the baby and give him his first ashram food.
The ashram astrologer performed the rite of consecration of the food. He then blessed the baby, who after his bath was now draped in a bright red cloth. He received the tripundra markings and wearing a bright brass bell waited just outside the ashram gates.
Amma arrived fresh and radiant despite having given Devi Bhava to 10,000 people the previous night until 8am in the morning.
The little one entered the ashram amidst a throng of excited residents. He walked sedately and with dignity, directly to Amma.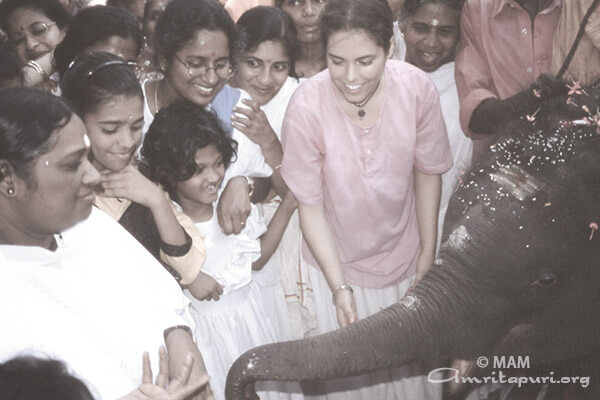 Amma showered the baby with flowers of blessing and fed him with bananas. Amma stood close to his side and called into his ear, Ram, Ram, Ram… Then to everyone's delight, seeing how free the little one was with Amma. As She was lovingly feeding him bananas one by one, he snatched the whole bunch from Her hands, and as She gave him a huge ball of jaggery, he threw it on the ground, not recognizing it as sweet ball!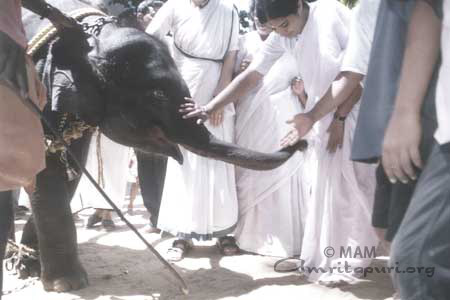 Amma shared with the donors the joy of the new arrival. Ram was then taken to his shelter for rest. Ram is  just 4 feet high and really really endearing.