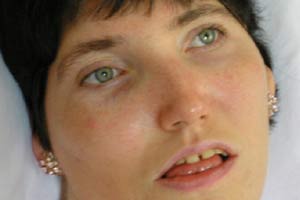 Italy — August 2008
Through her example, Amma has inspired countless people to give back to the world in whatever way they can. Some contribute through donating their resources, others by serving in Amma's charitable projects and institutions. In this way, not only is the world benefitting, but so too the volunteers, whose minds are purified through their selfless actions.
Camilla, a 24-year-old woman from Italy, is one such person. She has spent a good part of the past two summers stringing rosewood beads into malas for sale during Amma's annual European Tour. All the money raised, of course, goes to Amma's charities. What makes Camilla different from the thousands of other volunteers is that she is suffering from spastic tetra paralysis. She may not be able to control her arms and legs very well, but she does have control over her will, and she says she wants to do something to help those who are needier than she.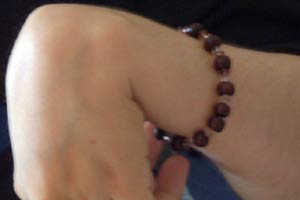 Camilla is supervised in her service by her mother and two friends, performing her task with care and attention. As Amma says, "The devotee who offers the garland to the Lord is the first to smell the fragrance of its flowers." While certainly the poor and needy will benefit by Camilla's seva, she herself was the immediate beneficiary—a liberating sense of purpose and usefulness.In the beauty of Amma's embrace, the suffering themselves are inspired to dry the tears of the suffering.
—Tulasi