4 September 2005 — Pudukuppam, Cuddalore District, Tamil Nadu
Today Swami Ramakrishnananda handed over the keys to 88 new homes to the government official, who, in turn, presented the keys to the happy recipients of new homes built by the Ashram in the village of Pudukuppam. These homes are the first to be completed by any organization in Tamil Nadu, despite the fact that the Ashram was only allotted the land by the government a short three months back (news).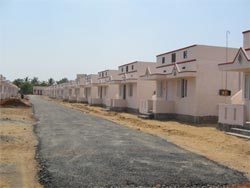 In addition to the actual houses, the Ashram also built roads, a community hall and a drainage system.  The Ashram has also undertaken the renovation and expansion of the primary school that was already present at the site. Transforming it from an elementary school that only went up to the fourth grade, to a full 10-standard high school.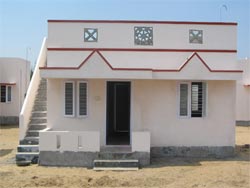 This village was the worst-hit in Cuddalore District, with 123 deaths caused by the tsunami.
The Ashram is also nearing completion of another 27 houses at Sambasivapuram in Kanyakumari and the work for construction of 350 houses in the severely battered Nagapattinam District is going on full swing.
—Tulasi