2 January 2005 — Ochira, Kollam District, Kerala
"Who are they?" This was the question asked by most as they saw the team of Westerners from the Ashram cleaning up toilets that hadn't been cleaned for months and which local health authorities had closed down as being unhygienic and unhealthy.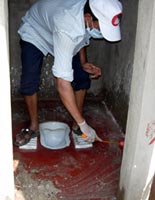 There were 20 sealed toilets at the government-run relief camp in Ochira. When a group of Amma's visiting devotees and brahmacharis came to clean the camp, the local officials there asked them if they could do something about the toilets.
The devotees—most of who were from the West—were willing to do the work. So they all put on gloves and masks and entered. What they saw they will never forget: the most disgusting toilets on the planet ever. In order to do the job properly, they literally had to scoop out excreta with their hands.
Chidambaram, a devotee from Los Angeles, says that the local government staff and some of the evacuees had gathered around, and the question on their faces was clear: "Why are they doing what we ourselves wouldn't do?"
"I thought, 'Dirty toilets need to be cleaned,'" says Chidambaram, an American from Los Angeles. "But others were gagging and covering their nose and mouth."
The local authorities were so impressed that they called a photographer.
In the end, when the toilets looked as good as new, the astounded government officials asked, "How could you do it? What motivated you to do it?"
And the answer was the same from all the Westerners: "It is Amma's love and what she teaches through Her life that motivated us to do it." One of the brahmacharis on the site added, "It is the love that they've received from Amma that they are now giving out to the world."
–Tulasi