27 December, 8:20 PM
The danger is over. But the damage has been done. While no one at the Ashram was injured, the villagers have suffered great losses. Family members are dead and missing. Many of their houses and huts have simply been washed away.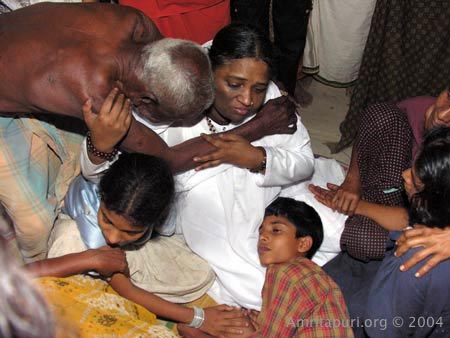 Amma visited the relief camps and consoled the evacuees and the families of the deceased.
* Amma visited the relief camps, consoling the evacuees.
* The government has ordered the peninsula evacuated for the next 48 hours.
* Ashram is housing some 3,000 evacuees at the Ayurveda School and Engineering College.
* Food, sleeping mats, water, milk and food are being provided to all by the Ashram.
* The Ashram is also supplying food to all nine relief centers set up in schools by the government.
* Six AIMS ambulances with 10 doctor led medical teams are visiting the relief centers every two hours.
* The Ashramites are preparing food for more than 10,000 people, three times a day.
* The Ashram is also actively involved in relief operations in Cochin (Vaippin), Trivandrum, Chennai and Pondicherry. Amma has told all the Ashram branches throughout South India to help in the relief efforts.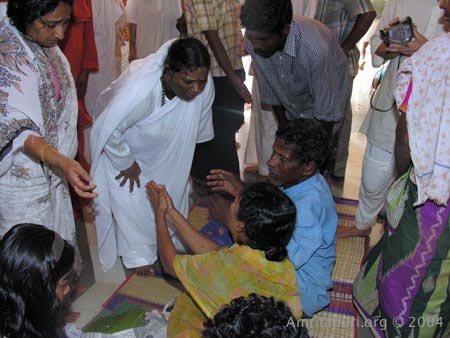 * 27 December, 12:30 AM
* The elephants and the cows have been moved further inland, across the backwaters.
* Amma also crossed the backwaters to inquire about the welfare of all those who are staying on the University campus. She is also spending the night there.
Invalid Displayed Gallery