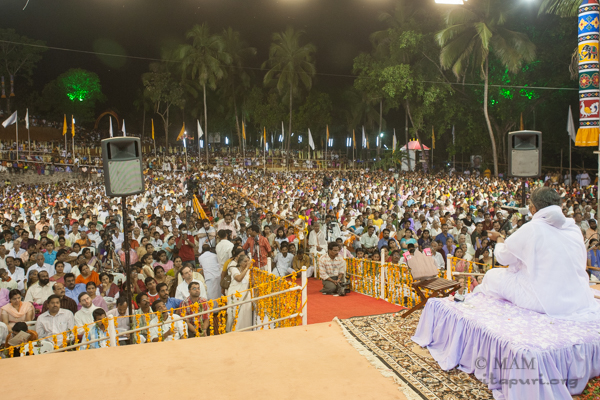 16 December 2007, Manjeri –Bharata Yatra 2007
Amma started off her Indian tours with a mega program in Manjeri, northern Kerala. This one-day public program was held in the campus of Amrita Vidyalayam, one of the schools run by the ashram, and it is the second time Amma has visited here. Because the region is very hilly, the land was adapted to different levels for seating the thousands of devotees. One amazing fact is that even before the bhajans were finished, one of the leading news dailies started distributing a supplement about Amma's visit with photos from the very same program. One article's headline was 'Amma as a wonder,' and said that anyone would feel that Amma is the eighth wonder of the world.

Amma talked about different aspects of life; the need to cultivate the qualities of love and compassion, discrimination and dispassion, and about faith in God and Grace. 'Simply listening to the thoughts and words of great people is not enough. What makes those thoughts and words alive and beautiful are the people who live them.' 'Vedanta is not something to be merely read about in books or heard in speeches. We have to make Vedanta practical in our lives. We need to cultivate purity in our thoughts and actions.'
In Amma's satsang, she said that the ashram is willing to financially support the building of toilets in bus stops and public places throughout all of Kerala. Amma asked if the people are willing to help take up the project and work to maintain the toilets.
The program consisted of satsang, bhajans, and darshan. Even though Amma's program started at 6:00 in the evening, many people were pouring into the grounds from morning onwards. After bhajans, Amma started to give darshan, and the thousands of devotees are waiting patiently for their turn as we write this, bearing the slightly cold weather at 1:48 a.m.
–Kannadi