"There is no end to Her perfection."

—Tridandi Madusudha Maharaj
Vaisnava Sannyasin
27 February 2005, Amritapuri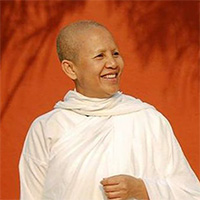 "Amma gives unconditional love, unlimited love, to anybody that she meets."
—Mae-Chee Sansanee Sthirasuta
Thai Buddhist Nun
during Amritavarsham50, Cochin, Kerala, 26 September 2003
Question: How do you reconcile the Church's doctrine that Jesus Christ was the only son of God in the face of someone like Amma?
Answer: "Doctrine must take a back seat. God chooses many ways to manifest His grace in the world."
—Rev. Dr. Ipe Joseph
General Secretary of the National Council of Churches in India
during Amritavarsham50, Cochin, Kerala, 24 September 2003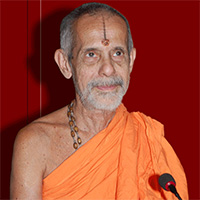 "As King Bhagirath flowed Ganga in the land of Bharata, our Mother, Mata Amritanandamayi Devi, is flowing the Ganges of Love over the entire world. For this, I offer my special gratitude to Amma. I feel very happy when I look at the service Amma is rendering to the world. She sees the vision of the Lord not only in all of humankind, but even in animals. Watching the service that Mata Amritanandamayi is rendering for the welfare of the entire world – today's society that is blemished with selfishness – one sees She is flowing the nectar of love and reviving the entire society.
Amma is the Incarnation of the Lord. She is the Avatar of Devi. To give amrita [nectar] to the devas [demigods], the Lord took the Mohini Avatar. But now, Mata Amritanandamayi – not only for the devas but for the entire humankind, for the entire animal world – She is the giver of amrita. I offer my salutations to Her. Under Her guidance, let peace and harmony be established in this world."
—Madhvacharya Vishvesha Tirtha
Pejavar Math, Udupi
during Amritavarsham50, Cochin, Kerala, 24 September 2003
There are flowers for incense, flowers for use in worship and flowers for medicine… but this flower is chosen by God.
—Sri Durgaswami (a sannyasin)
during Amritavarsham50, Cochin, Kerala, 24 September 2003
"Amma accepts everyone. She inspires us to open our hearts to new ways of being and doing in working selflessly together. (…) I thank Amma for giving me the direct experience of the Divine Mother. It has been 13 blissful years; this year I celebrated my bat mitzvah with Amma."
—Rabbi Leah Novick
Pathfinder of the Jewish Renewal Movement
during Amritavarsham50, Cochin, Kerala, 25 September 2003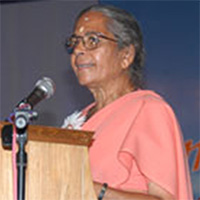 "One Mata Amritanandamayi can bring about the integration of the people of the world in a deeper sense than any number of organizations like the U.N.O. Love is the greatest conqueror."
—Swamini Niranjanananda
Resident Acharaya of the Chinmaya Mission, during Amritavarsham50, Cochin, Kerala, September 25, 2003
"By her emphasis on selfless service and charity, Amma will,
I believe, hugely influence the future world."
—Brother Wayne Teasdale
Parliament of the World's Religions Trustee,
author of A Monk in the World
"Amma, your embrace has become a worldwide treasure sought by princes and peasants, women and men, babies and frail elderly. Your embrace is not just to comfort the suffering, but is a gift of strength and spiritual energy to all who work to embrace the world, the world of work, the world of government, and the world of family."
—Rev. Dr. Joan Brown Campbell
Director, Department of Religion, Chautauqua Institution Chautauqua, New York, September 2003
All religions should work together for peace. Amma is a voice for all of us. She is certainly inspired by God and sent by God to guide us on this path. She is doing great work. She can only come from God. She is spiritually empowered, this spirituality of brotherhood. We all feel inspired by Her, and we thank God that He sent this gift to humanity!
—His Grace Dr. Pascal Topno
Arch Bishop of Bhopal
During Amma's programme in Bhopal, 12 March 2004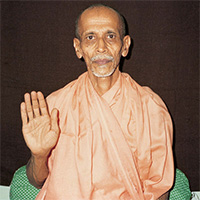 "H.H. Parama Pujya Shri Mata Amritanandamayee,
Blessed Divinity!
Dear and revered Mother,
Jai Sri Durga!
This servant of the holy Master Gurudeva Swami Sivananda sends his 'sashtanga dandavat namsakarams' to your revered self through this letter. May you live long to bless all sincere seeking souls and enrich their lives with the wealth of 'bhakti'!."
—Swami Chidananda
Divine Life Society
From a letter sent by Swami Chidananda to Amma in July 1995.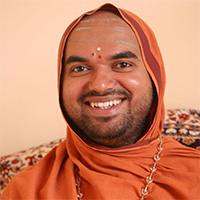 "We see in the living hug that Mata extends to Her devotees, the principle of Advaita [philosophy of non-dualism] expounded by Shankaracharya. In a hug, two bodies come into contact with each other. Similarly, when the jivatman [individual soul] unifies with Paramatman [the One Supreme Soul], an immortal bliss – that is, amritananda – is established. This is Advaita. We believe that the Advaita preached by Shankaracharya is reflected in the hug by Mata Amritanandamayi."
—Shankaracharya Raghaveshwara Bharati
Ramachandrapura Math, Hosanagar, Karnataka
during Amritavarsham50, Cochin, Kerala, 24 September 2003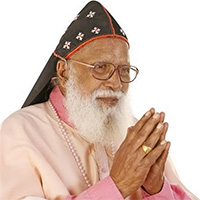 "Amma is a blessing given by the Lord to his world. I thought that for me at the age of 90, everything was over. But meeting you has given me new experiences and a look into the future. And I am very happy."
—Philipose Mar Chrysostum Mar Thoma
Syrian Church of Malabar Senior Metropolitan
Amritapuri, 29 August 2008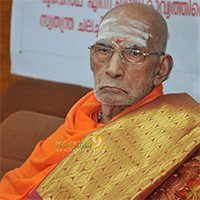 "In front of Amma, I always feel like a child and she is the Mother of the world."
—H. H. Swami Prakashananda
President of the Sri Narayana Guru Dharma Sangha Sivagiri Math, Varkkala, Kerala
24 September 2007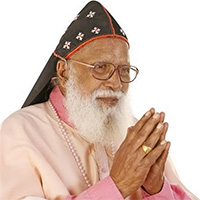 "Amma is a gift of God. God is love. Wherever there is love, God is there. What is real love? We come to understand it through Amma's different seva activities. God has blessed Amma with the ability to understand human need and render appropriate help accordingly. As a result many other people are also inspired to join in the humanitarian efforts. All praise to God who has given us this blessing in the form of Amma. May Amma be a blessing to many more people."
—Philipose Mar Chrysostum Mar Thoma
Syrian Church of Malabar Senior Metropolitan
Tiruvalla, Kerala, 7 March 2009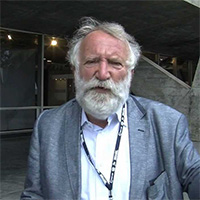 "Amma teaches us that we should, at least, start with tolerance. But then we have to evolve on to respect, and from respect on to love. When we do that, all problems are solved. With Amma, I believe we can together create a world filled with real cooperation, love, truth and justice."
—Rabbi Awraham Soetendorp
Former president of the Jewish Institute for Jewish values
The Netherlands, 14 October 2009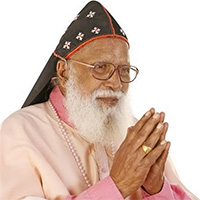 "Amma is a blessing given by the Lord to his world. I thought that for me at the age of 90, everything was over. But meeting you has given me new experiences and a look into the future. And I am very happy."
—Philipose Mar Chrysostum Mar Thoma
Syrian Church of Malabar Senior Metropolitan
Tiruvalla, Kerala, 7 March 2009