2 March, 2006 – Shivaji Park, Mumbai, Maharashtra
"Matching!" Amma said, first pointing at Mayur's T-shirt and then at his hair – both were golden yellow. A big grin crept across the young man's face. He then handed Amma a folded-up letter.
"Is it about your career, your future aspirations?" Amma asked.
The young man's smile got even bigger.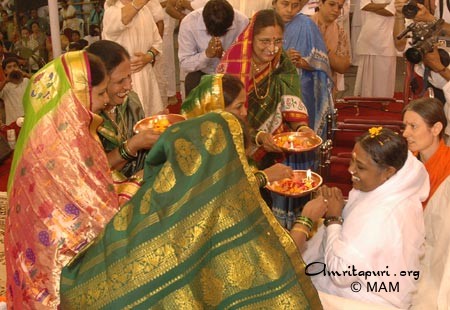 "When she knew what my letter was about without even reading it, it really put me on top of the world," the 24-year-old aspiring fashion designer, model and author later said. "I came tonight because I want Amma's blessings and grace for a safe passage through life. I know she will help me fill my ambitions."
Mayur has come to see Amma in Mumbai each year since he was 13, and he feels his relationship with her has helped him negotiate the often-confusing, fast-paced world of modern Mumbai—a city where East mixes with West, the contemporary blends with the traditional.
"Without Amma, I would not know how to walk through life with a relaxed soul," he said. "She has been my guide, my wisdom. She has made me a better human being."
Like Mayur, Mumbai is impossible to stereotype. It's the business capitol of India, the show-business capitol, the party capitol, the cricket capitol, the shopping capitol. But it also is pervaded with temples dedicated to Devi and Ganesha. The streets can be jammed with black-and-yellow taxis or a procession of pilgrims chanting out and dancing for Lord Vithala.
Says Mayur: "There's many sides to this city; many sides to me too."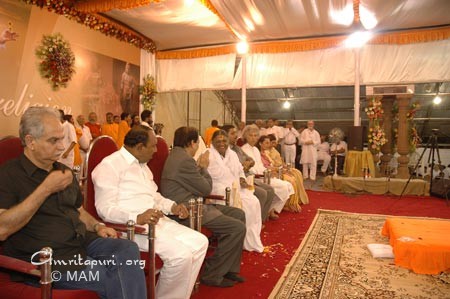 Amma's first couple of days in Mumbai truly reflected the city's multi-faceted appeal. Within her first 24 hours in town, Amma met with Maharashtra's Chief Minister, the film-industry family the Kapoors, the vice chairman of Tata and musician Mahadevan, among others. And seated on the dais of her program at Shivaji Park on March 2nd were the legendary director-producer Ramesh Sippy, santoorist Shivakumar Sharma, playback singer Sreya Roshal, the executive director of the All-India Association of Industries, Smt. Rupa Naik, MP Tukaram Range Patil and the city's mayor Sri. Dattaji Dalvi. Also in attendance were the former sheriff of Mumbai, Jagannath Hegde, and Gopal Shetty, MLA.
Perhaps Shiva Kumar Sharma said it best when he addressed the devotees. "The word 'Amma' itself generates feelings of selflessness and love in the heart. Amma has selfless love towards all kinds of people. Only those who are representatives of Ishwar can be like this."
–Kannadi