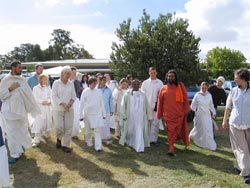 5 – 9 April, 2006 – Kyneton & Moorabbin, Australia (both near Melbourne)
At Amma's retreat outside of Melbourne, the air was filled with the sound of cockatoos and some devotees even spotted wild kangaroos grazing just across a field near the program hall—not to mention all the domestic cows, horses and sheep roaming about. At night all the stars came out, and one could see Orion, Scorpio and the Southern Cross in the Southern Hemisphere sky. Indeed, Campaspe Camp Grounds in Kyneton was a beautiful setting in which to commune with Mother Nature.
The culture of Australia's aborigines, or tribals, is inextricably linked with nature. The aborigines commune with the spirits of the flora, fauna, human ancestors and of the land itself. Tal Kin Jeri, a music group of aboriginals that have been devotees of Amma for several years now, attended the retreat, and the group's leader, Major Lancelot Sumner, performed a special smoke ritual to sanctify and purify the retreat grounds and to request permission to use the land from the spirits of the ancestors present in the region. After saluting the sky, the earth and the four directions, Major Sumner purified all the retreatants and then went blowing smoke throughout the campsite as well. On the second night, the group made an offering to Amma of an assortment of sacred dances, each of which depicted various animals of the Australian "bush."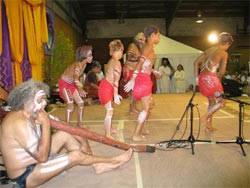 To the delight of the devotees, Amma herself danced during the retreat. Amma asked the devotees to form a large circle around her and then—to the singing of "Bolo Bolo Sabmil Bolo Om Namah Shivaya"—Amma blissfully swayed back and forth.
Finally, one of the local satsang groups drew a few smiles from Amma when they sang a version of "I'm a Believer," the Neil Diamond rock song made famous by the Monkees back in 1967. Though ostensibly about worldly love, the song describes feelings many have had upon meeting Amma:
Then I saw her face… Now I'm a believer!
Not a trace of doubt in my mind.
I'm in love!
I'm a believer!
I couldn't leave her if I tried!
Prior to the retreat, Amma had held two days of public programs at Kingston Town Hall in Moorabbin, just south of Melbourne. On the first evening, the Honorary Consul General for India, Dr. Janardana Rao, garlanded Amma and addressed those gathered. Speaking about Amma's tsunami-relief work, Dr. Rao said, "Amma's work goes beyond religion and nationality. Her service is to all of humanity."
–Tulasi