14 Aug, 2006, Amritapuri.
The evening of India's 60th Independence Day was celebrated at Amritapuri with multimedia cultural performances and a Bharatmata Puja by students from Amrita Universities –Engineering, Medicine, Ayurveda, Biotech, and Arts & Sciences schools. Amma joined the students and Ashram residents in the main hall. The performances focused on the various religions that form the spiritual and cultural fabric of India; Jainism, Buddhism, Judaism, Christianity, Islam, Hinduism, Sikhism, and Zoroastrianism.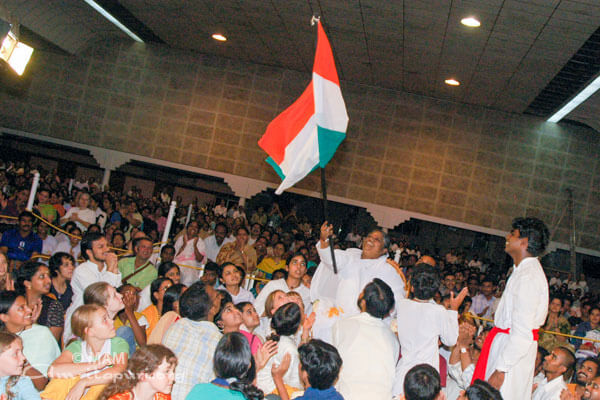 A huge map of India outlined with flowers and small lamps was drawn on the floor of the main hall. During the Bharatmata Puja, students lit lamps at holy sites across India associated with each religion. On stage, students reenacted historical scenes while a large screen showed additional images. The song 'Vande Maataram' played in the background throughout the evening.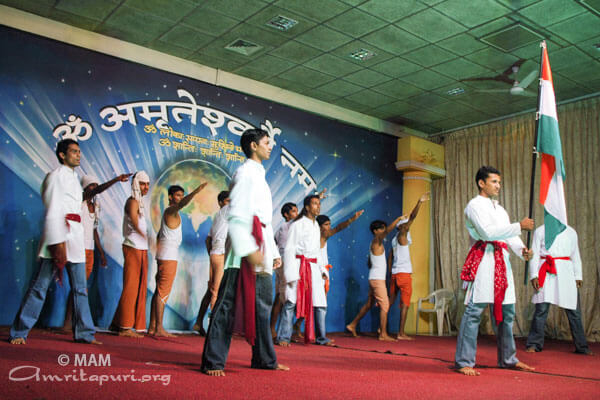 In addition to the religious theme, patriotic dances were performed and songs were sung by the students. At one point, over 60 students joined together to sing Vande Maataram.
A group of students offered the national flag of India which Amma waved over her head while the slogan "Bharat Mata Ki Jai!" echoed throughout the hall. After the performances had finished, Later, Amma then addressed the gathering asking them to imbibe the culture and spirit of India (read text of speech)
It's truly a great feeling to celebrate freedom with one who is totally free.
—Tualsi