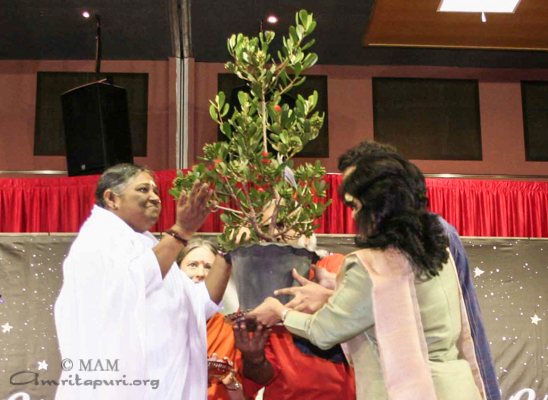 26 – 29 March 2008, Singapore
Amma held four days of programmes at the huge Singapore Expo complex near Changi Airport.
Holding true to Amma's teachings of selfless service, the Amriteshwarii Society of Singapore has been active in community service throughout the year. Twelve impoverished, elderly, and disadvantaged citizens were on hand to receive provisions that Amma distributed during a special ceremony on the first night. Amma also distributed 30 new wheelchairs which were being donated to various health agencies in Singapore. On the second night, blessed a sapling that will be planted in a nearby park. – 50 such saplings have been pledged by the Amriteshwari Society as part of Greenfriends' initiative.
As was done in previous years, The Amriteshwarii Society also held a blood drive. Dozens of donors lay on cots set up just outside the hall. While life-giving blood flowed through the small tubes inserted into their arms, they could listen to bhajans and watch Amma give darshan on a large screen.
On each of the first three evenings, Amma was treated to a special cultural performance upon arriving at the hall. The first night, Amma was entertained by a Lion Dance during which Amma fed the lion. At the end, a small 'firecracker' burst, sending a shower of colored paper down on Amma and everyone nearby. The second evening saw a Bhangra dance group performing for Amma in the lobby of the hall while hundreds of devotees watched from a balcony above. A traditional Indian dance group greeted Amma on the third evening.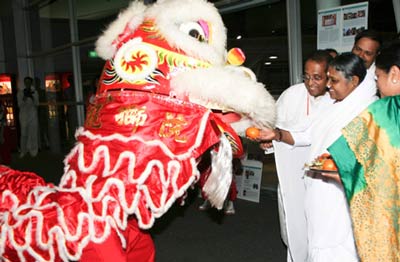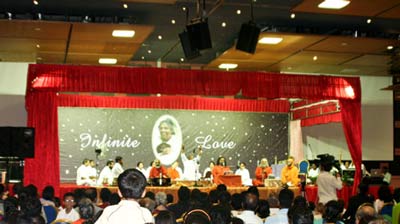 – Tulasi