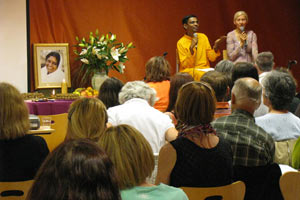 Br. Shubamrita Chaitanya visited Slovenia for the first time on the 8th and 9th of June, 2010. A beautiful picturesque country that has borders with Hungary, Italy, Croatia and Austria, was a part of the Socialist Federal Republic of Yugoslavia and achieved Independence in the year 1991. The programmes were held in Ljubljana at the auditorium of the Biotechnical Institute. The Slovenians welcomed Amma's message with open arms. Br. Shubamrita gave a talk on "Turning Scars into Stars" based on Amma's teachings of how to face problems in life. The audience wholeheartedly participated in the bhajan singing and the meditation.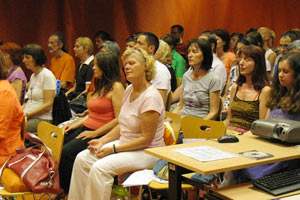 Before the programme, Br. Shubamrita was interviewed by the Slovenian National TV. On the day after the programme, he gave a long interview for the AURA, one of the famous magazines of the country. One lady said "We are a country with LOVE in our name (s-LOVE-nia). This country is known for its love, hospitality and openness. We are now waiting for a hug from the MOTHER OF LOVE."
There is an Amma website www.amma.si and two books are also available in the Slovenian language.
It was a very good start in the amazing Slavic country, so filled with natural beauty and beautiful hearts.
– Nath