7 February, 2006 – Kannur, Kerala
Although Kannur means "Land of Kanna*," the northern Kerala district regularly makes headlines for being the home to politically motivated violence, even brutal public killings. The majority of the district supports pro-Communist parties, which in general are anti-religion and, even more so, anti-"God-man." In the past, it has even been difficult for Amma's disciples to hold programs in the district without receiving bomb threats or worse.
It was this political climate that Padmashri Sugatakumari had in mind when she stepped to the podium to offer her felicitations to Amma at Police Stadium in Kannur. The renowned poetess, social worker and environmentalist said, "My only prayer to Amma is that there be no more bloodshed in the land of Kannur. May the hatred and animosity inside people be transformed by Amma into love and compassion." The 90,000 or so people attending the programme all applauded her remarks.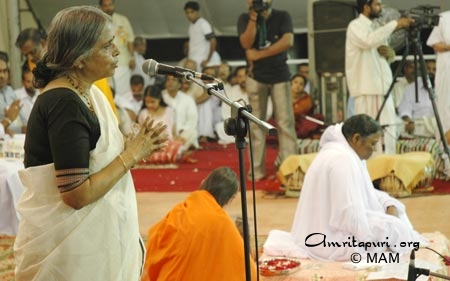 In Amma's youth, the Communist supporters of her own village were her chief detractors. Many of these critics, however, eventually became Amma's devotees after realizing the purity of her intentions and experiencing her unparalleled motherly love. Then, after the tsunami, when Amma literally took care of all of the needs of the surrounding villages, any remaining doubters were won over.
In fact, Amma's tsunami-relief programmes have caused many with knee-jerk attitudes regarding religious leaders to reconsider their belief systems.
In August 2005, an hour-long interview with Amma appeared on Kairali-TV, a Malayalam television station with Communist-party backing. At one point in the interview, the host felt there was some similarity between Amma's compassion-driven charitable activities and the Communist ideology. "Is Amma saying she likes Communists?" he asked, perhaps trying to corner her. Amma's response took him aback: "If there is a true Communist, Amma will drink his pada-tirtham**. But who is there to truly live up to those ideals?"
The interview was so well-received that it was re-aired in its entirety several times.
Following the tsunami, Sri. Devakumar, a pro-Communist leftist, lauded Amma's tsunami-relief programmes in Kerala's Legislative Assembly. He even attended Amma's 53rd birthday celebrations at Amritapuri, where he said how his ideologically driven negative opinion about Amma had changed when he saw her work and how helpful and needed it was for the poor. He said, "I believe that Amma is applying the real Communist principles." Even the think-tank for the CPIM-Kerala, Sri. P. Govinda Pillai, openly spoke highly of Amma's humanitarian activities during his visit to Amma's Trivandrum programmes in 2005, thanking her for her acts of love and compassion.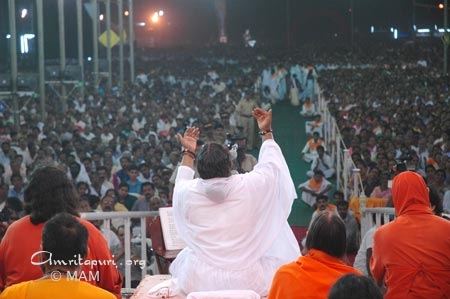 Just a few days ago, during Amma's Brahmasthanam Festival in Talassery, one of Amma's senior brahmacharis gave a talk in which he addressed the reason why mahatmas like Amma are able to succeed where political leaders fail. "Karl Marx divided the people into two groups: the haves and the have-not's," he said. "But he did not have the fortune to meet the third category of people, those don't care whether or not they personally have or have not, but who only want to help others." He went on to make the point that only one who is selfless can truly help others, and only mahatmas—who have gone beyond any selfish interests—truly have such purely altruistic motivations.
Sugatakumari's prayer in Kannur touched everyone's heart. But perhaps even more touching was Amma's response: "We hope that this year will bring a new dawn—one wherein we will wake to the laughter of children and the chirping of birds, instead of to their crying and the sound of gunfire. Here [in Kannur] the situation is no different. But it is not enough if just Amma alone thinks this. You all also have to put in your efforts."
—Kannadi
— — — — — — — — — — — — — – — — — — –
*Kanna is name of Sri Krishna
**Pada-tirtham is water obtained by washing the feet of a holy person.