15th August 2023 – Amritapuri Ashram
India's 77th Independence Day was observed with fervor and patriotism at the Amritapuri Ashram today. In a heartfelt ceremony, Amma hoisted the tricolour flag against the backdrop of the Kali temple, imbuing the atmosphere with a deep sense of gratitude and reverence.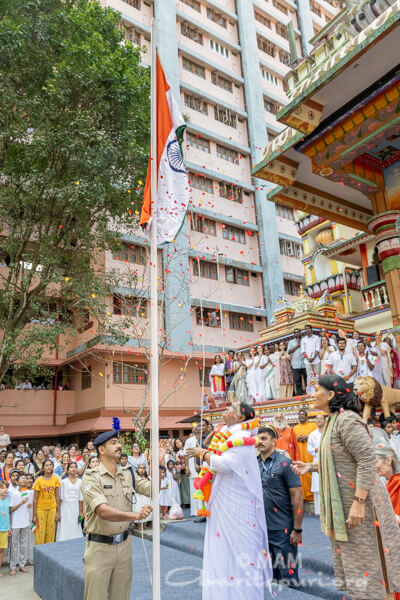 In attendance were the Kerala Police and the Central Reserve Police Force (CRPF) personnel who are currently serving at the Ashram. They rendered a ceremonial salute during the hoisting, enhancing the solemnity of the occasion. It wasn't just the officers who participated with vigor. The event was uplifted by the presence of children and elders, of different nationalities, many of whom proudly waved tri-coloured flags, signifying their allegiance and love for the nation.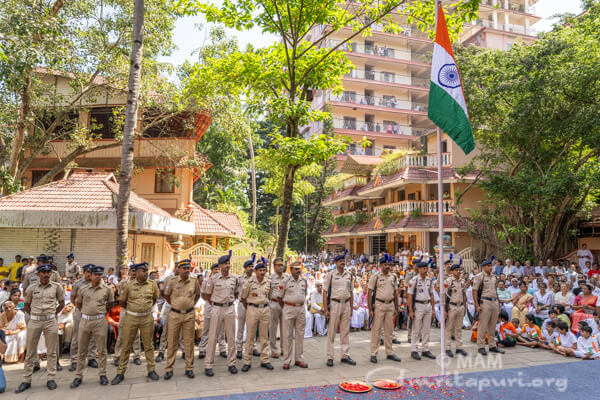 While hoisting the tricolour, Amma reflected upon the tremendous sacrifices made by the nation's freedom fighters. With deep humility and reverence, she said, "I bow down to the unparalleled sacrifice of our freedom fighters." Following this, she led the gathering in a salute to those brave souls who laid down their lives to ensure India's independence.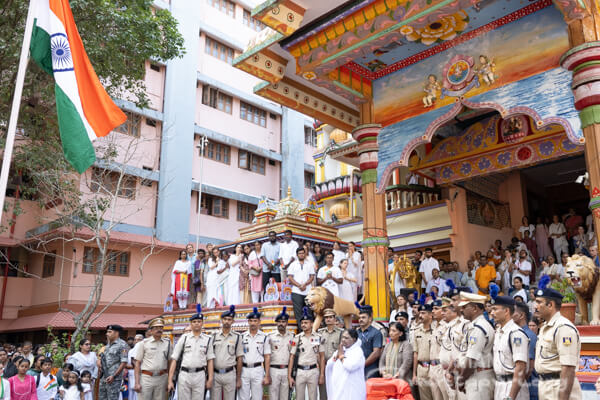 Amma's speech was not just about remembering the past; it was a clarion call for the present and the future. She emphasized the importance of imbibing and practicing noble values, which are at the core of Indian philosophy. She said, "Let us practice the noble values such as Love, unity, patience which will help us to progress. Let's always tread the path of Dharma. Let's awaken the love for our nation."
Ending her address on a note of hope and prayer, Amma added, "May the Almighty give strength to all of us to uphold these values and carry our nation forward."
-Kannadi