Inauguration of MA Center Italy
Gavi, Piedmont, Italy – 9th October 2022
The new MA Center Italy was inaugurated in the town of Gavi, located between Turin and Genoa. Devotees gathered on the large terrace in the early morning hours to take part in the Homa, praying for an auspicious new beginning.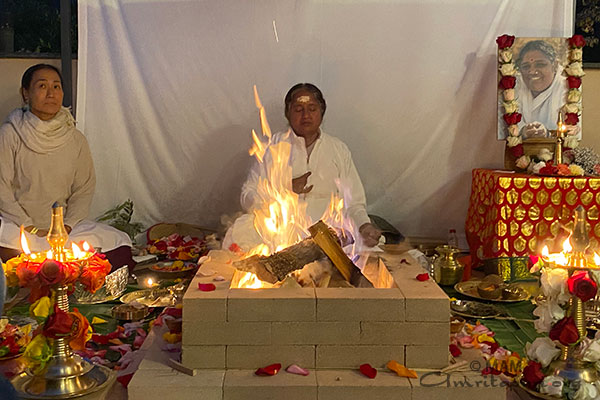 At 10am, many more devotees from around Italy and beyond flocked to the new center to take part in the official inauguration ceremony. Amma's representative Swami Shubamritananda Puri talked about the necessities and requirements in sustaining such a center. Swamini Amrita Jyoti Prana shared valuable lessons learned from establishing and growing MA Center France.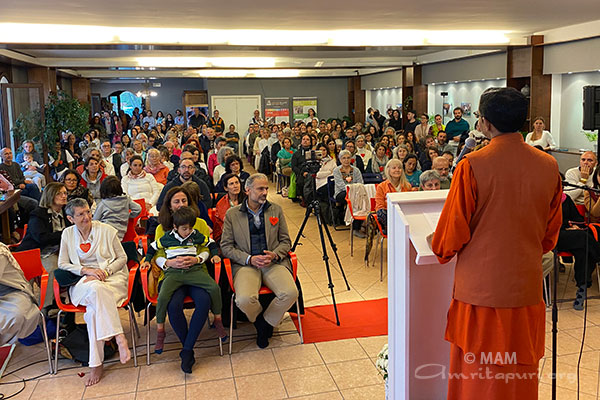 In the afternoon, to everybody's surprise and great joy, Amma appeared via video link live from Amritapuri. Amma told them: "With all the love that you have, this center came into existence. Now, without extinguishing that love, it is your dharma to sustain it and to take it forward. Its light must be beneficial to everyone. It's like when we are sitting below a very low voltage bulb, we will not be able to read. But if we have thousands of such bulbs together, we will be able to read. May your unity become a light to the world."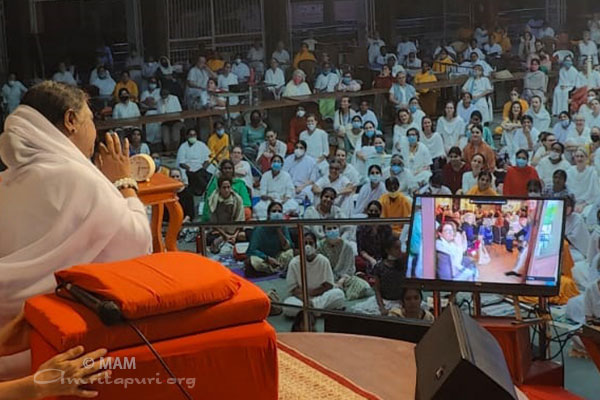 She continued: "When Amma sees all her children together, she feels like she is in a garden full of flowers. May more and more people enjoy the nectar of the flowers."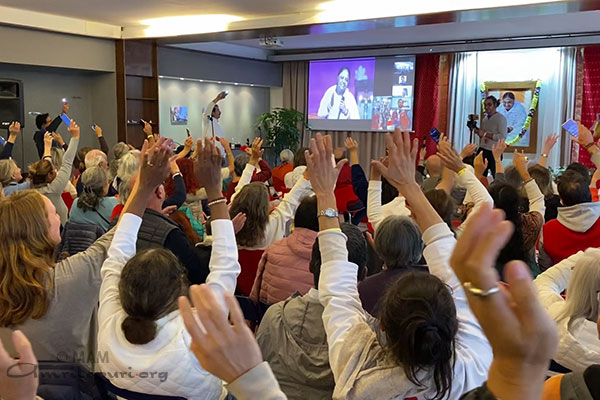 Amma eagerly looked on as the camera went around the hall, showing all the participants' faces, showering kisses on each of them.

Amma then had a conversation with Bishop Marcelo Sánchez Sorondo, who came as a representative of the Vatican to inaugurate the new MA Center. He is a childhood friend of Pope Francis, who had previously sent him to visit Amma in Amritapuri and invite her again to the Vatican.
The bishop said: "When I informed the Pope that I am going to inaugurate Amma's center, the Pope has conveyed special regards to Amma." The bishop then went on to tell Amma: "We need your presence in Rome! Amma came ten years ago. We need to celebrate the 10-year anniversary of the meeting!"
Amma replied, saying: "Certainly, if God's grace is there, I will come. May your words become true. May God's grace be there."
Amma asked for the camera to move outside of the hall and show views of the center from outside and of the green lands surrounding it. She added: "May all my children be able to do something good for the world, may this center be helpful for that. It is said that God is functioning through our hands. May that be true. May we all become the hands of God."