Aug 25, 2019 in Nagarcoil, Tamil Nadu
Amma was invited to visit Nagarcoil by Swami Chaitanayananda of Vellimalai Hindu Dharma Vidyapeetam.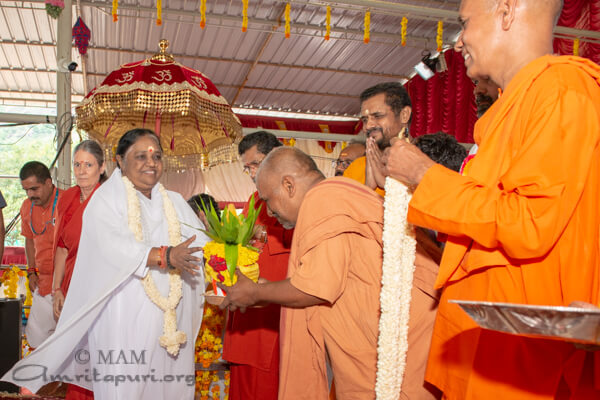 The program was held on the grounds of the Amrita Insitution in Nagercoil, which is surrounded by beautiful western ghats (mountains).
Amma delivered Vidya Jyothi certificates to the students who had completed the Scriptural classes conducted by the Vellimalai Hindu Dharma Vidyapeetam on five levels: beginner, junior, under graduate, higher level and post graduate.
Every year many students gradute these courses. This year twenty people graduated. Amma gave away certifctes to those twenty students. This was the 30th anniversary of the first graduation. The first graduation ceremony was held in 1990. So far, 650 people have graduated.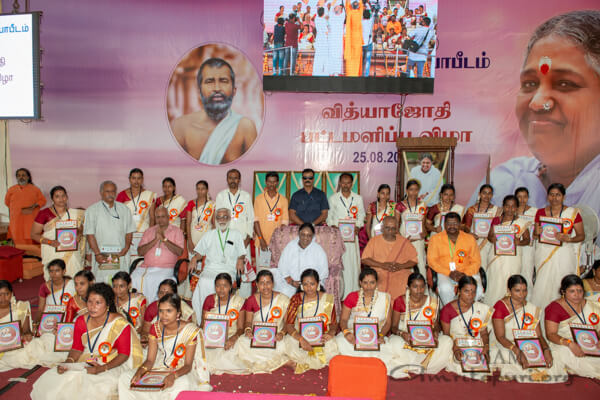 Prior to Amma's program, the students performed a padapuja to their parents, held a homa, and took an oath to serve the community and the country.
Welcoming Amma and thanking her for coming to the program, Swami Chaitanyanada said Amma has so many big institutions, the fact that she came for such a small institution's program was touching. Swami Vivekanda said, all power is within you. Amma is the best example for that: though she was born in a difficult situation, she invokes her spiritual power and spreads it to crores of people.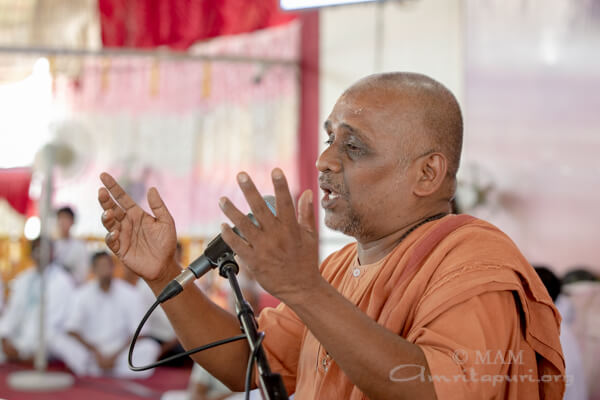 Whenever I see Amma, I remember the words of Swami Vivekananda that "BharatMata is going to sit on the throne, she is going to lead the world, she is going to spread the teachings of Sanatana Dharma to the entire world," that became true now because I can see people from different countries are here serving Amma. So, it's an honor for us, that we have the opportunity to live in this time when Amma is living. For that, we might have done a bit of punyam— yes, definitely we have done some good deed that's why we are able to see Amma.
Swami Vivekanada said, "instead of teaching economics to the world, teach the secret of our scriptures, which is hiding in the caves and forests and spread it to villages and cities. That's the main seva one can do."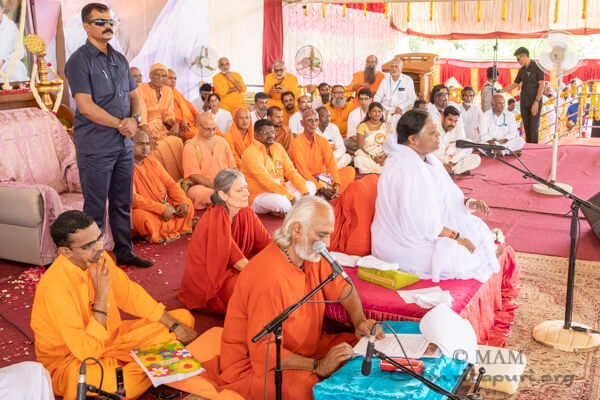 Speaking on the occasion, handing over the certificates, Amma said: "I am very happy to see that you have interest in Itihasa and Puranas, and that you study this culture. It's not enough that you just study about this culture. You should practice this in daily life, you should become a role model for others. You should also be ready to teach others who are interested in knowing this. We are not understanding our Dharma properly. We are going to temples but not understanding the principles behind them. Only when we practice with the knowledge, only then others will be able to accept it. My request to you is that you learn about our Dharma. Even if you don't call our Mother (which is Sanatana Dharma) as mother, don't give a chance for others to call her a prostitute. Respect all mothers. Along with that know who is our mother. The mother who breast fed you, you should not go and sell her for a one time meal. The dharma towards the motherland, which gave birth to us, may remain always within, Amma prays for that to Paramatma."
Amma held bhajans and Darshan for all those who pateintly waited before returning to Amritapuri.