January 29 & 30, Coimbatore, Tamil Nadu – Bharata Yatra 2019
Amma held a two-day brahmasthanam festival in Coimbatore, Tamil Nadu.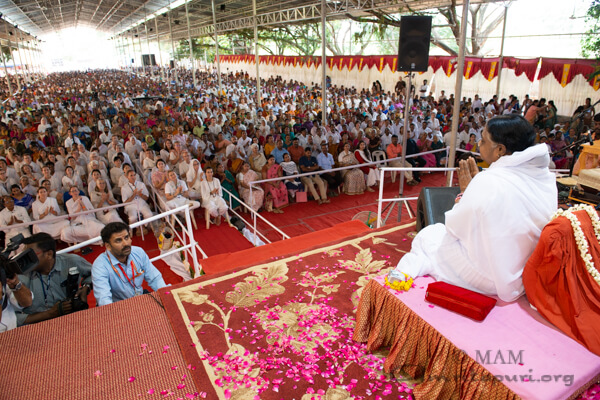 Addressing the gathered devotees during her satsang, Amma urged everyone to live in the moment, without wasting time on insignificant interpersonal conflicts. Amma said, "The solutions to most of our internal and external problems lie in removing our incorrect vision or wrong perspective. It is our duty to make efforts towards this end. We should live our life in a manner that is helpful to ourselves as well as to others."
During the ceremonies, Amma inaugurated the Amrita PMKVY training program. PMKVY (Pradhan Mantri Kaushal Vikas Yojana) is an initiative undertaken by the Govt. of India designed to enable a large number of Indian youth to take up industry-relevant skill training that will help them in securing a better livelihood. Amrita Vishwa Vidyapeetham in Coimbatore was selected by the Govt of India as an implementing agency for the program. The Coimbatore campus is the first Amrita PMKVY center in Tamil Nadu.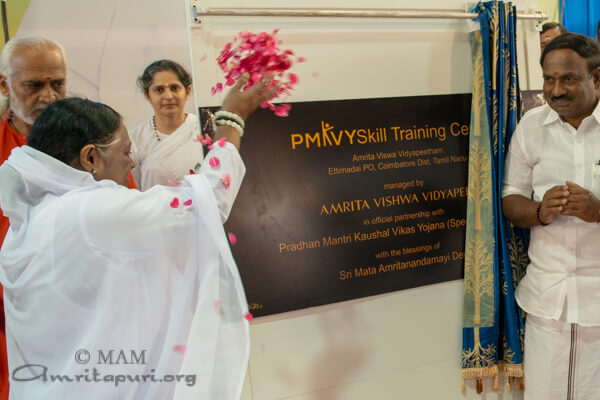 Amrita PMKVY offers an innovative technology-enabled training model that enhances the teaching and learning experience that allows for customization to the local context.
Amrita has had an impressive track record in the skill training ecosystem. There are Over 2 lakh women engaged in self help groups, micro enterprises. Vocational training goes hand in hand with the women's empowerment efforts in over 50 villages across 21 states in the country. This year, this massive effort is set to expand to cover a 101 villages, across all 27 states.
Amma also gave away saris to AmritaSREE Self-Help Group members.
During darshan, Amrita Vidyalayam children presented a variety of cultural programs. As in previous years, the Badugas sang and danced for Amma.
After two days of darshan, Amma headed back to Amritapuri. The first leg of this year's Bharata Yatra had come to an end.
-Kannadi