23-24 October, Copenhagen, Denmark — Europe Yatra 2018
After years of patiently waiting, the dreams of countless well-wishers of Amma came true – Amma would come to Denmark for the first time. As Amma stepped out of her vehicle after a 14-hour drive from Winterthur, Switzerland, hundreds of her Danish children had gathered late into the night to welcome her as she first touched Danish soil.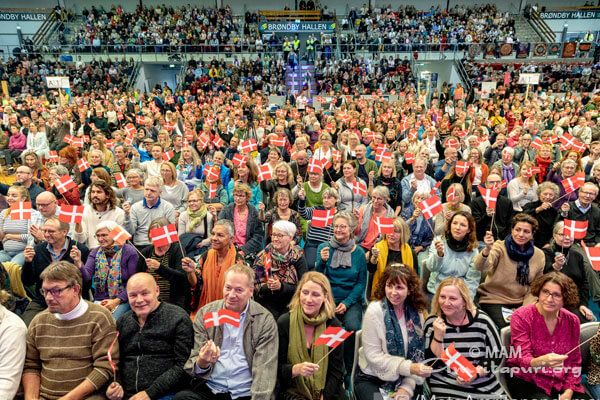 Looking at them, Amma said, "It is your love and affection that has brought me here – it was such a force that I was drawn to come."
Amma's first-ever program in Denmark was held in Brondby Hallen, the acclaimed sports arena. As it was her first visit to the country, even the day before the programs, no one knew how many people might be coming. But even before Amma arrived on the first morning of her programs, the question was no longer whether people would come, but whether the arena could accommodate everyone who had come to receive Amma's embrace. Brondby Hallen was transformed into a temple of love and peace.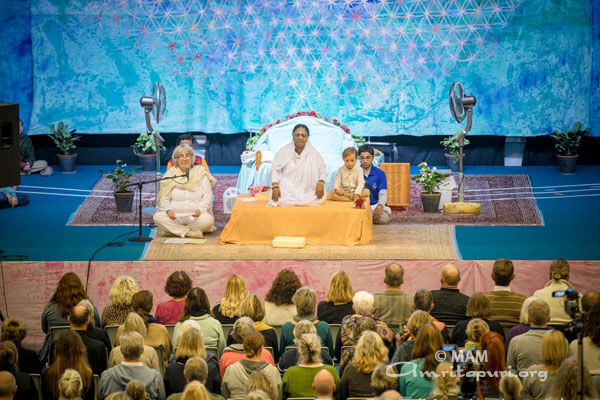 During the formal program on the first evening, Amma was welcomed to Denmark by Member of Parliament and priest, Ms Ulla Sandbaek and the Indian Ambassador to Denmark, Mr Ajit Gupte.
Mr. Ajit Gupte said, "It gives me great pleasure to welcome Amma on her first visit to Denmark. She has been telling me that the Danish people have been inviting her to Denmark for many years and your love and affection has brought her here. I'm delighted to see the large turnout, because in Denmark gathering thousands of people, is much more difficult than gathering thousands of people in India. I´m sure all of you will be spiritually uplifted from being with Amma."
Ms Sandbaek said, "A couple of weeks ago the Danish Parliament resumed its works after the summer break. When I prepared this speech, I imagined what it would have been like, if Amma had been the one to give the opening speech of the new session of the Parliament's work. It would have been so wonderful if every member of Parliament could have just listened to her and just being in her presence. What a difference it would have made to Denmark. Amma talks of compassion and love. Indeed, her actions speak louder than her words."
At the end of the formal event, the Danish people, all in unison and beautiful harmony, together sang a traditional Danish song to Amma, their joy at Amma's presence imbuing the song with a new meaning:
The sun is rising in the east,
It gilds the heavens wide,
And scatters light on the mountain crest,
On shore and countryside.
It rises from the valley bright,
Where Paradise once lay,
And bringeth life, and joy and light
To all upon its way.
As the song came to a close, thousands of Danish flags appeared in the audience and waved with gratitude and celebration.
"Seeing all of you seated here—as children of one mother, with minds that have become as one—Amma's heart is filled with joy. Like the evident external beauty of a peacock displaying its plume and the subtle internal beauty created by the call of a nightingale, may my children's lives be filled with the beauty of both the external and the internal. May you all be blessed with joy and peace."
Despite the fact that it was Amma's first ever program in Denmark, the program was very well organized, buoyed by the tireless efforts of Amma's Danish children. More than half of the volunteers who worked day and night to organize the program had never met her in person and would receive Amma's embrace for the first time during her visit.
Amma's visit was also well covered in the Danish media, including by Politiken, one of the top media outlets in the country.
As Amma's programs concluded and she left for the next stop on her tour, just one prayer was written on the hearts of all the devotees in Denmark – "Amma, please return next year."
-Kannadi