16-17 October, Houten, Netherlands – Europe Yatra 2018
Amma's presence attracted people from all parts of the country as well as the neighbouring countries of Belgium and Luxembourg. The Expo Houten venue had been overflowing on both days of Amma's visit to the Netherlands.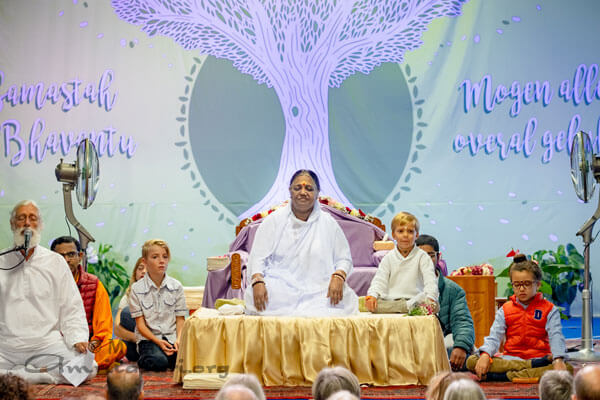 Amma was welcomed to the Netherlands by India's Ambassador to the Netherlands, Venu Rajamony. Mr Rajamony began by inviting the assembled crowd to themselves welcome Amma with a round of applause. The crowd used the opportunity to express their appreciation for Amma, with applause that seemed as it would only end if they were asked to stop.
Ambassador Rajamony, declared, "I come here as the Ambassador of India to the Netherlands, but in reality, I come here as just a child at the feet of Amma, come to bask in her love and to be hugged by her just as all of you… In Kerala we have a song that goes, 'Is there a God bigger than Mother? Is there a temple bigger than Mother? It is a life of sacrifice which cannot be erased by time. Mothers are the gods that appear in life and blood before us.' This song applies to all mothers, but especially to Amma, the mother of humanity."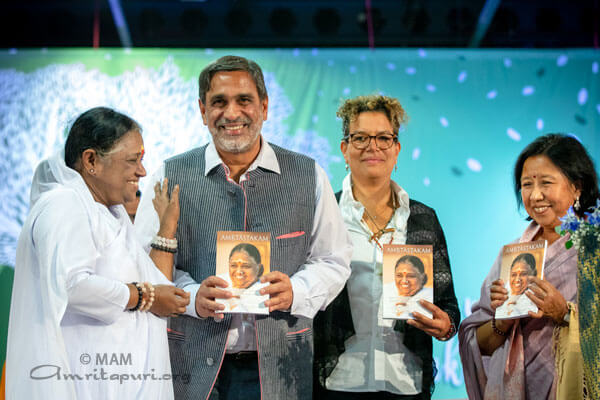 The ambassador continued, "Friends, we live in difficult times. War, conflict, discrimination, exploitation, poverty, ignorance, hatred, xenophobia, religious hatred – all these have not been eliminated from this world. The world has been struggling, again and again, to get rid of these problems, but we have not succeeded. It is people like Amma, who are ambassadors of love, messengers of peace, who give unconditional love to whoever comes to them, who spread the message of unity of all religions – it is they who uphold the moral compass of society. It is the duty of each and every one of us to strengthen her hands in every manner possible – to come together and work to build a world truly free of violence."
Amma was also welcomed to the Netherlands by world champion boxer, kickboxer, acclaimed actress and coach Lucia Rijker, who shared "Amma embraces you unconditionally and selflessly. Something which is not easy to do for a normal human being and Amma is my example in this. How she embraces us all and lets us in, irrespective of who we are, where or what we are, how much money and success we have, or how troubled our heart is. Thank you Amma for always making the effort to make those tiring journeys and spend all those hours pushing us back into our heart, and helping us remember where our heart is, in this troubled world."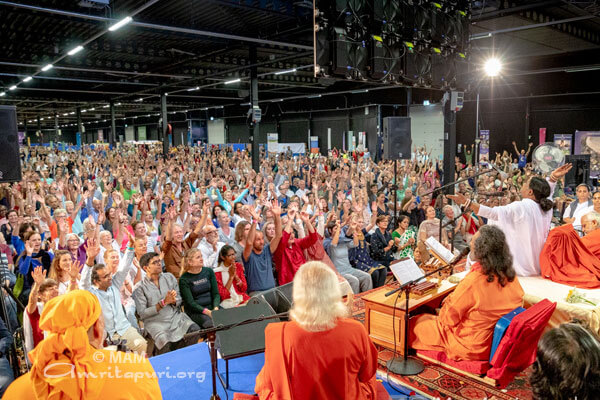 In her own remarks, Amma spoke about the importance of maintaining mastery of the mind, rather than becoming a slave to its desires. "The mind is a good servant, not a good master. As our attachment towards external objects grows, our mental strength weakens. We may think our attachment is minimal and insignificant. But as our attachment towards an object grows, we soon find that we are being reduced to a beggar before these attachments. The object of our attachment becomes our master."
The devotees of Belgium brought Amma a special gift – in honour of Amma's home state of Kerala, they performed the traditional Kerala dance kai kotti kali, dressed in traditional garb. Their loving offering put on display for all to see and feel the truth that Amma's love transcends all boundaries, and that Amma is fostering a new, universal culture of spiritual values.
-Kannadi