22 December, Kodungallur –Bharata Yatra 2009
During the first evening program of the annual Brahmasthanam festival in Kodungallur, Amma extended several of the ashram's charitable projects to recipients in the area.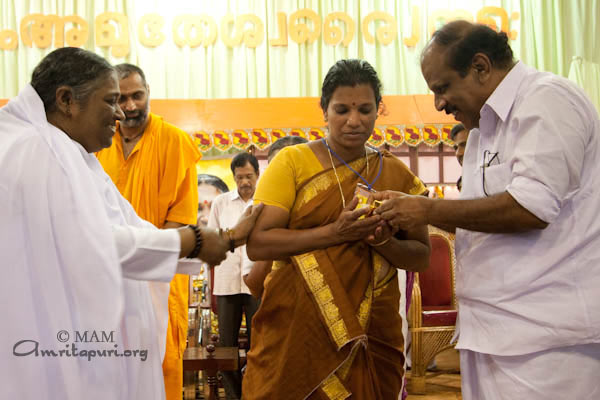 Sewing machines were  distributed along with financial working capital to start self-help groups for impoverished women.
KP Dhanapalan,  a Member of Parliment of the Mukundapuram District of Kerala, distributed keys to houses built around Kodungallur as part of the Amritakuteeram Project.
In the inaugural address MR. Dhanapalan shared a recent personal experience he had with Amma in New Delhi:
"When I was in Delhi 3 weeks ago I saw the news that Amma was also in town, but since I was leaving that same day  I was sad I missed my chance to meet her. When I went to the airport to catch my flight back to Kerala, I saw many people wearing white and I hoped that maybe I would get lucky and still see her, but Amma was not there.  But then after I boarded the flight and took my seat, just a few minutes before take off, Amma and the Swamis also boarded the plane.  She sat just across the aisle from me. By God's will for the next three hours I travelled with Amma.  Usually I would carry a book and read through the journey.  But for that day I could not read a single page.  After getting her darshan, I  watched her closely for rest of the flight. Amma was  pulling out papers from her bag, reading them and giving some instructions to Swamini. I realised that those were the letters devotees had written to her. It then became very clear to me that Amma is some one who has dedicated her whole life, every second, to ease the suffering of humanity."
Swami Prashanthananda, President Sri Ramakrishna Math Trissur; VD Sateeshan, MLA from Pravoor; PD Viswambharan, Chairman Kodungallur Muncipality; Dr. Vijayakumar, District Judge,  were the other dignitaries sharing the stage with Amma.
– Dass