New Delhi 2 Oct 2018
Amma was felicitated for the outstanding contribution to Swachhbharat Kosh by the Prime Minister of India Narendra Modi and Antonio Guterres, The Secretary general of UN on the occasion of Mahatma Gandhi International Sanitation Convention and Conclusion of Swachhata Hi Seva conducted today at Rashtrapati Bhavan.
Sushma Swaraj, Minister of External Affairs l India; Uma Bharti, Minister of Drinking Water and Sanitation l India; Hardeep Singh Puri, Minister(I/C) Housing and Urban Affairs l India; Manoj Sinha, MoS (I/C), Communications l India; Ramesh Jigajinagi, MoS Drinking Water and Sanitation l India were among the dignitaries on the dais.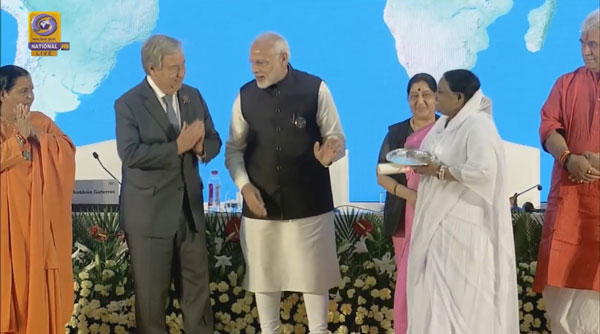 Speaking on the occasion, the Prime Minister thanked Amma for the Mata Amritanandamayi Math's dedicated service to cleanliness and environmental protection. He said, "I especially offer my pranams to respected Amma because ever since we started this work, Amma has taken this campaign very proactively on her own shoulders. Inspired by various great people and humanitarian leaders like Amma, this campaign has gained immense strength and has transformed from being a campaign into a mass movement."
The Prime Minister also thanked Amma for travelling to Delhi for the event, saying, "In this event commemorating Bapuji's 149th Birthday, it is a matter of great joy that Amma was able to find the time to come here in person, adding glory and prestige to this entire function."
A video about cleanliness campaigns was played in which Amma said, "As soon as we wake up in the morning, we brush our teeth. Environmental cleanliness is just like that. It's for our own health and wellbeing. If we clean a sewage canal with the right attitude, even that becomes service to God. In Sanatana Dharma, the Creator and the creation are not two different things. Cleanliness is the most important thing."
The PM also hosted a lunch for the participants.