15-16 January, Kozhikode, Kerala – Bharata Yatra 2018
The second leg of the 2018 Bharata Yatra started with a two day Brahmasthanam Festival in Kozhikode, the first of ten cities that Amma will visit in her travels. The festival marked the silver jubilee of the pratishta, as it was the twenty-fifth anniversary of the temple's installation in Kozhikode.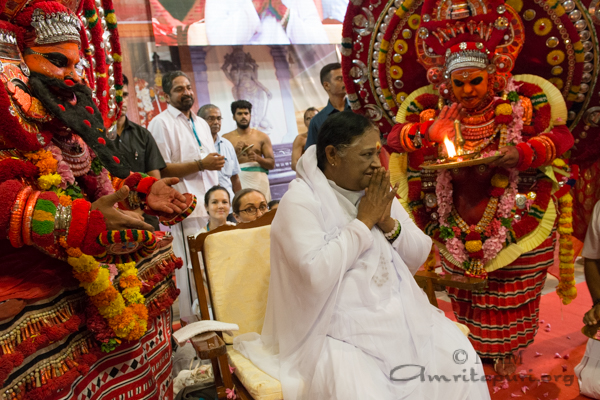 On both festival days, Amma led the crowd in bhajans, guided a Manasa puja and meditation, and delivered a Satsang in which she asked all gathered there to hold on to the feet of the Lord with the faith and strength of devotion in spite of whatever difficulties arise.
When Amma first arrived in Kozhikode, she was welcomed with traditional Purna Kumbha. Costumed Two Teyyams, folk representations of the God of north Kerala, were also there to welcome Amma and perform an arati upon her arrival.
On each day, Amma was welcomed to the stage by Mohiniyattam artists and Kaikottikali artists who were wearing their traditional dance costumes.
Amma gave away certificates of completion to the Panchayant where the Ashram installed drinking water facilities as part of the Jivamritam project. She also gave saris and working capital to the members of the local AmritaSREE Self-Help Groups.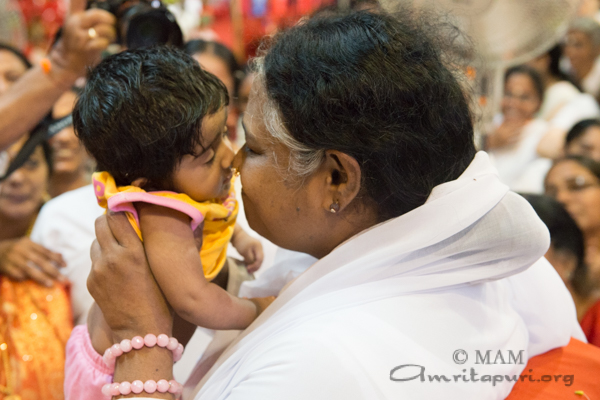 Many devotees brought their infants to be fed the Annaprasham (their first solid meal) by Amma. Annaprasham is typically given when a child is about six moths old. As well, there were many children who came to receive Vidyarambham (the initiation into the world of alphabets), which is typically performed when a child is about three years old.
Addressing the devotees in Kozhikode, Amma said:
"The entire world looks up to those who have the heart to do selfless service. While the modern world teaches selfishness, nature always teaches us to live in harmony with our fellow human beings and nature. God takes care of those who serve both humanity and nature."
As two joyous festival days came to an end, Amma prepared to travel to Vadakara, her next stop on the 2018 Bharata Yatra.
-Kannadi