10 Sep 2017, Amritapuri
1424 Graduates from Amrita University, Amritapuri Campus
The graduation day for Amrita University's Amritapuri Campus was held at the Amritapuri Ashram today, in the Darshan Hall.
There were 1424 graduates from the Schools of Ayurveda, Biotechnology, Business, Arts & Sciences and Engineering, to receive their graduation certificates after successfully completing various degrees – PhD, MD, MBA, MSc, MCom, MA, MSW, MCA, MTech, BAMS, BSc, BBA, BCom, BCA and Btech.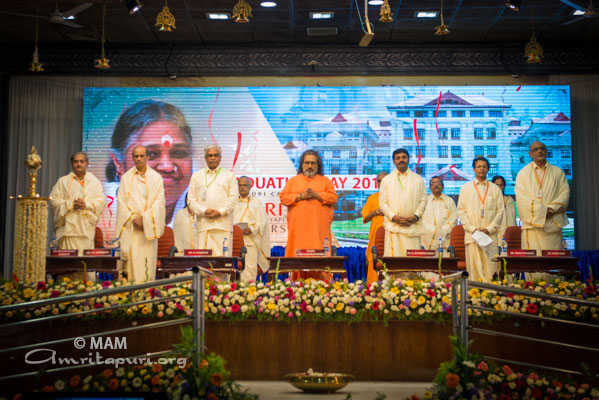 Award of PhD degrees and award of Gold & Silver medals and Certificate of Merit for the University toppers from various batches were given out by Dr.M.Rajeevan, Secretary, Ministry of Earth Sciences, Govt of India, Dr.G.Satheesh Reddy, Scientific Advisor to the Defense Minister & Director General of Missiles & Strategic Systems, Govt of India and Swami Amrita Swarupananda Puri, President of Amrita University.
"All of you should be very proud of your university. It is one of the premiere Universities in the country. learning is a continuous process and it never stops. you should have a basic instinct for learning and want to be a student always" said Dr M Rajeevan, Secretary, Ministry of Earth Sciences in his address to the students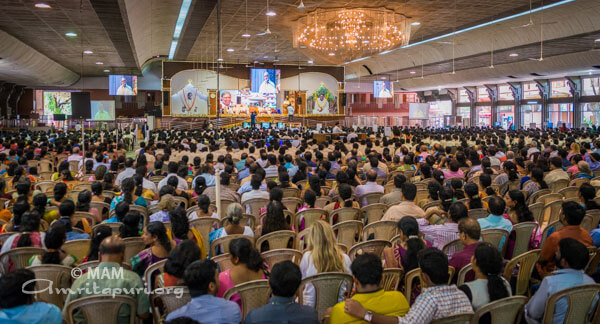 Dr G Satheesh Reddy, Scientific Advisor to the Defense Minister & Director General of Missiles & Strategic System inspired the students with these words "We need to do a lot more research in science and technology and come out with many more solutions. The world is moving very fast. Unless, we come out with innovative research, innovative product and innovative technology, we wont be standing in the world today. This innovation has to come from the University. Universities should be the engines of innovation.
"Today you are the best in among the private universities. You should become of the best in the country and produce graduates who will be leading in the world, come out with technologies and products which are required for the nation."
Swami Amritaswarupananda Puri shared 4 points with the graduands, students on this day:
1) Feeling excited and then dissipated is becoming a DNA thing with this (facebook) generation. In most time, our celebrations are outside without feeling real celebration within.
2) The current generation communicates a lot through emojis and sms language. Using the medium of language, expressing through proper words or from the heart is surely much better. When it comes to sharing deep emotions like love, joy, sorrow write them in a proper manner. One may otherwise lose the skill to communicate and to open up the heart.
3) Always use your power of discernment or discriminative intellect before arriving at a conclusion or taking a decision. Freedom is not a license to do anything – but freedom's true meaning is flexibility. If you are afraid of being in a structure, it is not freedom at all. Home is the source of mental and physical wellbeing. Always love, respect and serve your parents who sacrificed their entire life for you.
4) Our society is a result-oriented society, a what-is-in-it-for-me scenario. Become action-oriented rather than result-oriented. That is why Masters like Amma say Live in the present.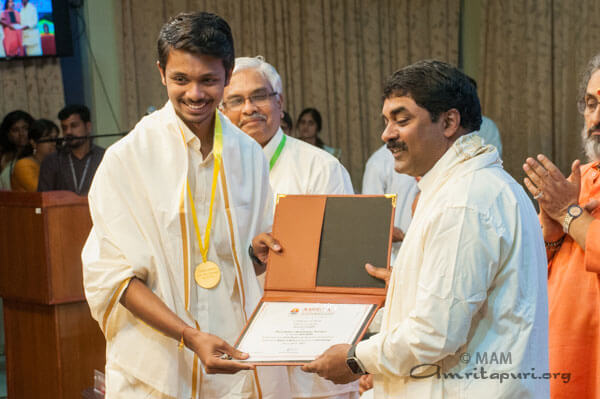 Swamiji, quoting Bhagavad Gita, also reminded that the mind is the friend of the conditioned soul and its enemy as well and highlighted how Amma had gone against all odds to conquer and achieve through her love and selfless actions.
This is the first time that the convocation ceremony is happening at Amritapuri, since Amrita University's first batch of graduates 13 years ago.
-Kannadi