27 Sep 2016, Amritapuri – Amritavarsham 63 , Amma's birthday celebrations
Sri Mohan Bhagwat, Sarsanghchalak of Rashtriya Swaymsevak Sangh participated in the brithday celebrations and and spoke these words.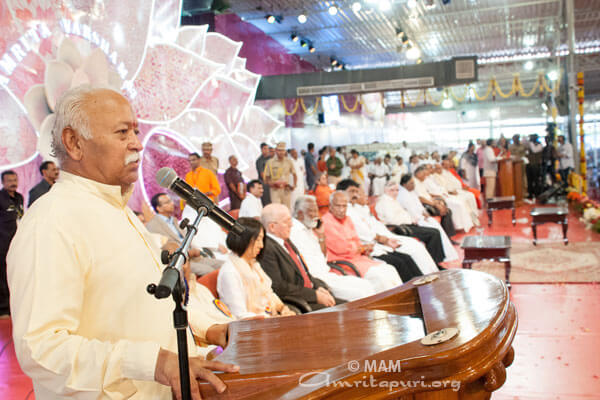 * Many ages ago, the young Sant Gyaneswar of Maharashtra who had written a commentary on Bhagwad Geeta asked his guru for a boon- "Every where in the world, there are realised souls who are in constant touch with Reality,should be available to all common people at all times". When we see life of Amma we see that the boon has now been granted.
* Our ancient scriptures state that the universe runs on dharma which has 4 components- Truth,Compassion, Purity and Tapas. For us common people we need an example of such behaviour.
* In Tetrayuga we had Lord Rama as an embodiment of Dharma in human body. In India we still have the tradition of such evolved persons being a leading light for society. We are looking uo to Amma as she has realised the Truth of real existence. Her humanitarian activities embody the highest form of Compassion. Likewise when you are around Amma you experience Purity. And for us she is performing Tapas relentessly.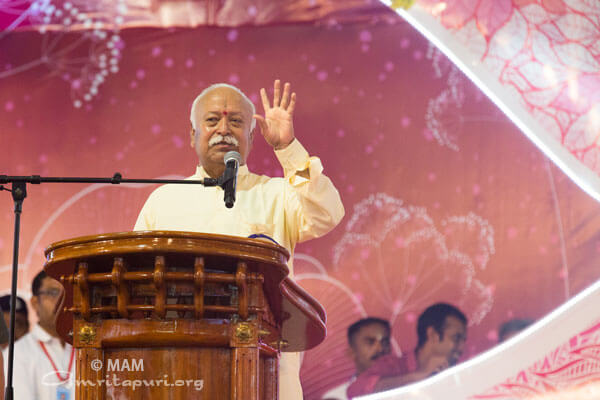 * We are very lucky people as we have met Amma who embodies all the 4 elements. Whenever we come in the vicinity of Amma all worries leave us, we become tension free and blissful. And even our thoughts become pure. This is my experience.
* The eternal message of Bharat has been that in Solitude we should Realise and in Multitude we should Serve without any discrimination. This is very difficult, but Amma makes that happen. She is freely available to all
* Amma is practising real Dharma and doesnt need our blessings.–but what else can we offer to her. I pray that she instills in us at least a particle of the 4 components of Dharma